Why Leviticus?
By David Chadwick
Of all the books in the Bible, perhaps Leviticus is the most underappreciated and difficult to understand.
But I would argue that it's an essential book for understanding God's plan of salvation.
After God created everything perfect and Adam and Eve initiated the Fall, God's plan of salvation began by forming a nation that would seek after his heart. Though Israel was enslaved in Egypt for 400 years, God delivered them through his chosen servant, Moses.
After God parted the Red Sea, Moses climbed Mount Sinai to meet with him. God expressed his covenant love for his people. Then he gave Moses a series of laws for his people to follow.
The book of Leviticus was given to Moses by God to help the Israelites be a holy people. The word holy means different. God desired a different kind of people – a nation that would desire to live and reflect his holiness to a sin-stained world.
Over the next couple of weeks, we will look at the book of Leviticus and challenge ourselves to reflect God's holiness. God commanded it in Leviticus 19:2. He did so in the New Testament as well in 1 Peter 1:16.
Being a holy person as God's child is not optional. It's a command to be taken seriously.
May we all chase after God's heart of holiness.
---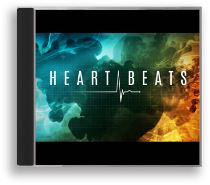 Live in-tune with the heartbeat of God!
God might have blessed all Christians with grace, but sin still affects our lives.
It steals our happiness and keeps us from experiencing fullness and meaning that Jesus intended us to enjoy.
We want you to live a righteous, fulfilling life that's aligned with the heartbeat of God—so you don't have to live another moment in the miserable pitfalls of sin. That's why we want to send you David Chadwick's CD series, Heart Beats, as our thanks for your gift below to reach others with the hope of Jesus Christ.
This insightful series offers biblical perspectives on subjects such as...
Worthlessness & Shame
Disappointment
Loneliness
Parenting
And more!
So, give and get your copy of Heart Beats today! And, thank you for your partnership to give the lost and the lonely a reason for hope.
For more from Moments of Hope, visit us at MomentsofHope.org.