What About the Food Laws in Leviticus?
By David Chadwick
Spiritual skeptics love to look at the food laws and laugh at Christians (Leviticus 11:12). When they read the list of prohibited foods in Leviticus, they ask: But you eat shellfish! And other foods denied in these passages. Therefore, Leviticus is an antiquated book of no importance in your Bible.
That makes sense – until you realize why these food laws are commanded.
God wanted a holy people. He desired a nation that would love and worship him alone. Their lifestyles would reflect his morality. They would be different from all the other nations of the earth.
From all the nations on the earth, God chose Israel.
God gave Leviticus to Israel as his holiness code. Its regulations called the Jews to be a holy people – even in the way they ate.
Were these laws meant to protect Israel against certain diseases that resided in different foods? Perhaps. We don't know what God may have been protecting his children from.
Most likely, God commanded certain foods not to be consumed as a simple reminder of their call to be holy. If the Jews ate three times per day, as we do today, that means that every day they would incessantly be reminded of God's call to be a holy people.
Therefore, if you're a Christian, you should ask what's in your life to remind you that you are called to be holy as God is holy (1 Peter 1:16).
And if your life is truly different, that's the best way to silence a spiritual skeptic.
---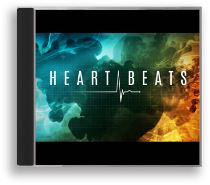 Live in-tune with the heartbeat of God!
God might have blessed all Christians with grace, but sin still affects our lives.
It steals our happiness and keeps us from experiencing fullness and meaning that Jesus intended us to enjoy.
We want you to live a righteous, fulfilling life that's aligned with the heartbeat of God—so you don't have to live another moment in the miserable pitfalls of sin. That's why we want to send you David Chadwick's CD series, Heart Beats, as our thanks for your gift below to reach others with the hope of Jesus Christ.
This insightful series offers biblical perspectives on subjects such as...
Worthlessness & Shame
Disappointment
Loneliness
Parenting
And more!
So, give and get your copy of Heart Beats today! And, thank you for your partnership to give the lost and the lonely a reason for hope.
For more from Moments of Hope, visit us at MomentsofHope.org.