The Name of Jesus (Part 2)
By David Chadwick
One day, at the name of Jesus, every knee will bow and tongue confess that he is Lord of the universe (Philippians 2:10). The name of Jesus is above all other names. It holds extraordinary power.
Therefore, Jesus's followers are instructed to pray in the name of Jesus. His name holds authority over the enemy.
Pray in the name of Jesus. But don't use it as an anemic tack-on to an unbelieving prayer. When you pray, claim his name as the prominent power source in the universe.
If you feel worthless, pray in the name of Jesus. Contemplate the cross. It's the extent to which the Father would go to show his love for you.
If you have a heavy heart, pray the name of Jesus over it. Cast all your cares upon him, for he cares for you (1 Peter 5:7). Let him carry your burdens. When you do, they become much lighter (Matthew 11:28-30).
If you have just received a doctor's diagnosis that you won't live much longer, pray in the name of Jesus. Show others that Jesus is your healer and the giver of eternal life. You don't need to fear a death diagnosis. It can't sting you. In Jesus's name you have victory over death (1 Corinthians 15:55).
If you have broken dreams, pray the name of Jesus over them. He gives new hope. He can do all things through you (Philippians 4:13). He is the restorer of all things shattered and broken (Isaiah 61:7).
There is something extraordinarily powerful about the name of Jesus. It's supposed to accompany every prayer of faith a believer offers to God.
Claim today the strength that accompanies your prayers spoken in the name of Jesus.
It unleashes a power like no other.
---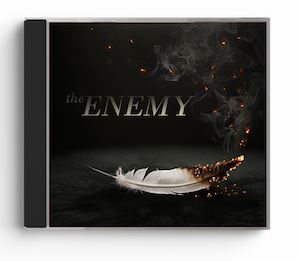 Stand strong in the attack
God's equipped you with exactly what you need to defend yourself from the devil when he comes creeping into your life.
David Chadwick's CD set, The Enemy, shows you how to use the tools God has given you to resist Satan's advances.
In it, you'll learn how to:
Use God's Word, the ultimate defense, to deflect evil
Resist the Devil's advances
Pray to fight temptation
Submit to God and let Him work it out for your good
The Enemy is our gift to thank you for your donation to give more reason for hope in Jesus. So request it below when you give.
We pray it helps you stand strong against your enemy!
For more from Moments of Hope, visit us at MomentsofHope.org.