Update Required
To play the media you will need to either update your browser to a recent version or update your
Flash plugin
.
The story is told of Abraham Lincoln traveling on horseback during a period of spring flooding. Another traveler asked him how he intended to cross a particular river that was still many miles ahead of him. Lincoln reportedly replied that it was his policy to never cross a river until he first reached it. While it is generally good advice to not borrow trouble from the future—as Jesus said, each day has trouble enough for itself—there is a great river ahead that all of us must cross over. Yet as the hymn writer said: "The water is wide, I cannot cross over, and neither have I wings to fly." All of this, of course, is metaphorical language about heaven. Except for those alive when Jesus returns, all of us must traverse the river of death. And when we do, we shall stand before the Ever Living One. And in that singular moment, what we are trusting in to gain admission to heaven will be fully revealed.What is your hope of heaven based upon? Dr. D. James Kennedy with his message: "True Faith and False" provides solid ground to stand upon.
Featured Resources from Kennedy Classics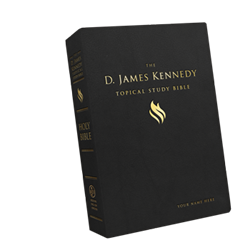 D. James Kennedy Topical Study Bible
We are proud to introduce our newest resource that, as Jennifer Kennedy Cassidy describes it, "is like having my father sitting next to you when you read it."
The D. James Kennedy Topical Study Bible is a one-of-a-kind study tool that is now available for you to request through this special advance offer. Featuring over 700 of Dr. Kennedy's personal commentaries and notes drawn from his almost 50 years of Bible study and teaching, there is simply no other study Bible like this.
Order