Stars in Dark Places
By David Chadwick
Are you in a dark place today? If so, always remember it's only in the darkness that you can see the stars.
That's certainly been true in my own life. In those dark days when I didn't think I could put my foot in front of the other one, when I was ready to give up, God came to me in a special way. I sensed his love, care, nurture, and grace as never before.
It was only in this time of extraordinary darkness that I knew God was with me in a powerful way.
Therefore, if you are in a dark place today, open your heart to God's love. Let his divine presence overwhelm you. Sense that he has not left you or deserted you.
You'll have a new experience of his love. Your heart will open to new places to where you can give his love to another person who is in a dark place.
And you will celebrate your own darkness.
For only there were you able to see the stars.
---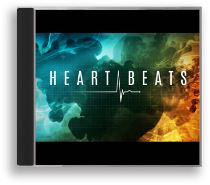 Live in-tune with the heartbeat of God!
God might have blessed all Christians with grace, but sin still affects our lives.
It steals our happiness and keeps us from experiencing fullness and meaning that Jesus intended us to enjoy.
We want you to live a righteous, fulfilling life that's aligned with the heartbeat of God—so you don't have to live another moment in the miserable pitfalls of sin. That's why we want to send you David Chadwick's CD series, Heart Beats, as our thanks for your gift below to reach others with the hope of Jesus Christ.
This insightful series offers biblical perspectives on subjects such as...
Worthlessness & Shame
Disappointment
Loneliness
And more!
So, give and get your copy of Heart Beats today! And, thank you for your partnership to give the lost and the lonely a reason for hope.
For more from Moments of Hope, visit us at MomentsofHope.org.