Update Required
To play the media you will need to either update your browser to a recent version or update your
Flash plugin
.
If we look at history, we can see that there were a number of things thought "too big to fail" that actually crumbled like a house of cards. Nations, governments, financial institutions, relationships, and reputations have collapsed when no one thought it was possible. But, God IS faithful! The God of grace will never forsake you, never fail you, and never forget you. If God is for you, it is not just game on, it's game over.
Featured Resources From Touching Lives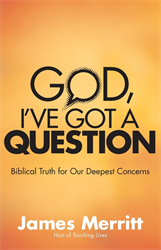 God, I've Got a Question
We all have a list of questions we'd like to ask God if we could bend His ear. Dr. Merritt reminds us that God is neither surprised not offended by our concerns. In this book, he wrestles with 10 of the most frequently asked questions about faith, life, and the world around us-questions that perhaps you've been hesitant to ask the only One who can answer them:
God, why do You allow innocent people to suffer?
Are people of other faiths with You in heaven?
Did you use evolution to create the universe?
Is the Bible really Your Word?
Do You really have a plan for my life?

The God who knows every heart and every thought has yet to meet a question that stumps Him. As you explore these questions, you'll discover answers from the Bible that will both comfort your heart and challenge your mind.
Order