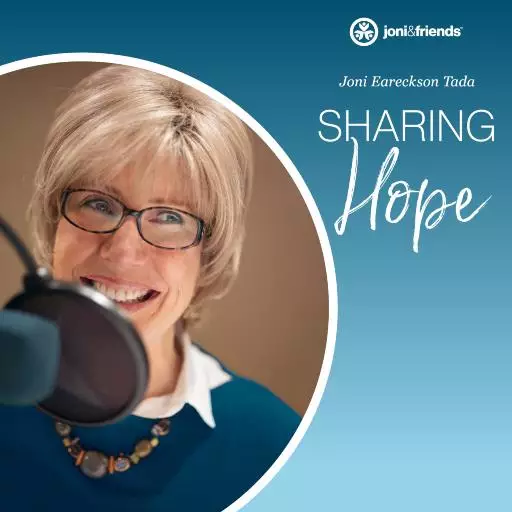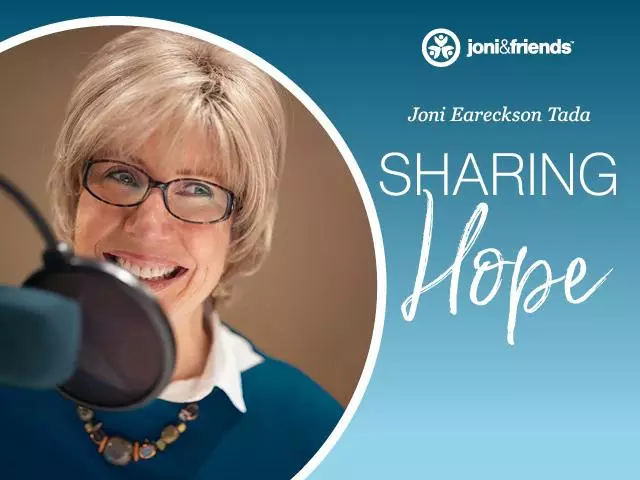 Affirming Your Caregiver
May 7, 2019
Hi, I'm Joni Eareckson Tada and I love caregivers!
And I better had love them 'cause I've got one in my husband, not to mention a few friends who help me lay down at night or get me ready to sit up in my wheelchair every morning. I love them all, and of course I especially appreciate my husband Ken Tada – that's my term of affection for him, Ken Tada. And I make it a habit of not only affirming him, but each and every person who helps me. And I don't mean empty flattery or compliments that aren't sincere. I don't mean saying sweet things to manipulate my husband to do what I want him to do. No, affirmation is nothing like that at all, to affirm someone is a skill; it's a skill that Ephesians chapter 1 talks about when Paul prays that the eyes of our heart might be opened. Friend, it's the skill of opening up your eyes to see what Christ-like characteristics are in your friend or your husband or wife. The life of any other person and then nurturing those godly attributes with words of encouragement.
And boy, does my husband thrive on that, actually, anyone thrives on it, right, when other people observe their honest- to -goodness godly qualities. Ken Tada works hard to take care of me. Like, most often at night (and I will try to say this without crying), my husband has to get up sometimes two or three times to turn me. My paralysis won't allow me to stay in one position in bed too long; it just hurts too much, and it can cause pressure sores. So, Ken gets up and makes certain (sometimes he sets his watch) to come over, pull back my blankets, put me on my other side, re-tuck my pillows. To me, that is the kind of sacrificial service that honors God – it not only helps me, but it glorifies the Lord. It's the kind of service that so many caregivers provide to their family members, often losing their sleep, often going without a break to make certain their loved-one is served well.
And that is why even in the middle of the night, it could be 3 AM, 4 AM, I am always certain to be awake enough to say, "thank you, Ken, thank you so much." When he comes back from the medical supply store with stuff, I commend him, I'll tell him, thank you for making the extra effort. Or I will brag on him in front of others. I'll look for times when he's compassionate toward a neighbor or mindful of doing the right thing. I will recognize that, and say something to him like, um, you know, Ken, you bring God such pleasure when you do that. And perhaps the nicest way of affirming someone is looking out for their best interests. So, I try to give caregivers lots of breaks, like with Ken Tada, I'll arrange for a girlfriend to occasionally sleep overnight with me, or I'll ask a few girls to stay with me so Ken can go fishing.
You know, I've been speaking to caregivers here. But this advice really works for anyone. Wives, we should always be affirming our husbands, and husbands your wives. If you live with a roommate and that person does a great job of holding up their end of household responsibilities, commend them for it. Tell them they have a wonderful sense of responsibility. Use biblical affirmation with your children and tell them when they've done well on a chore. And finally, please share this program with any of your Facebook friends who have a disability in their family. Let's encourage our caregivers, let's spread the word, because the Bible says that giving affirmation (Biblical affirmation) is like giving a basket full of apples of gold. By the way, I would love to hear what you are praying about or a favorite Bible verse that you are memorizing. Tell me about it; just go my radio page today at joniandfriends.org. Or you can always write me at Joni and Friends, Post Office Box 3333, Agoura Hills, California 91376. God bless you today and thanks for listening to Joni and Friends.
© Joni and Friends
Featured Resources From Joni Eareckson Tada: Sharing Hope

Majestic Mountain Set
This elegant cutting board and tea towel set makes the perfect gift for any occasion. Both pieces feature Joni's inspiring "Majestic Mountain" artwork, and the encouraging words of Psalm 36:5,6: "Your love, O LORD, reaches to the heavens, your faithfulness to the skies. Your righteousness is like the mighty mountains."
Get Yours Today!