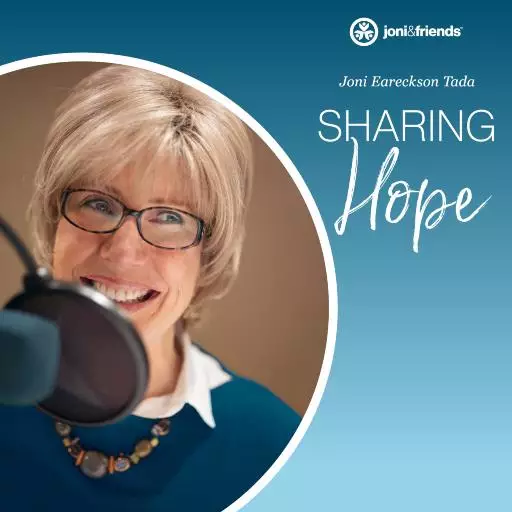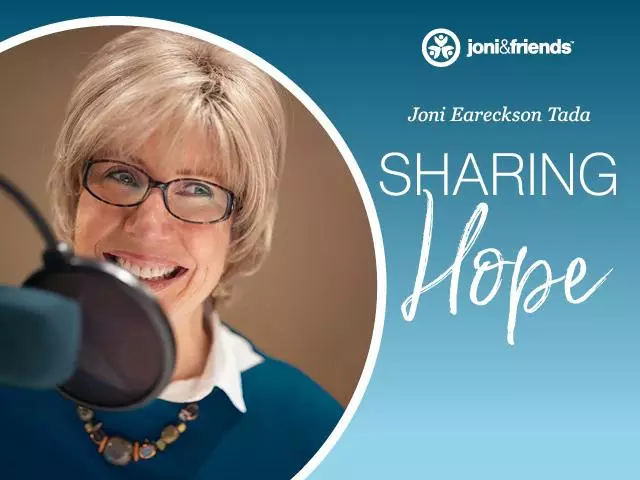 Tommy Walker Interview
March 5, 2019
Hi, I'm Joni Eareckson Tada and if you know me, you know I love hymns. And that's why I've got my good friend in studio today, Tommy Walker. Tommy, thanks for coming over.
TOMMY: Thank you. It's an honor to be here.
JONI:Well, the reason I want to introduce my listening audience to you is because you love hymns too.
TOMMY: That's right!
JONI: You really do. But your music, oh my goodness, you give hymns an upbeat, contemporary kind of 'kick it up a notch', and energize it a bit more, and pump it up with a bit more enthusiasm. You take some of the classics like "Rejoice, the Lord is King" and you make it downright fun. And Tommy, I'll never forget the first time that I heard your album "Generation Hymns." I was blown away. It became tops on my playlist down the 101 freeway every time I was driving. So, what inspired you to just take hymns and make them so fresh?
TOMMY: Well, I grew up with the hymns; so blessed to be in a Christian family. I remember falling asleep under my mom's grand piano hearing her play the hymns and little did I know; the truth, the theology was all being planted in my as a little kid hearing those hymns over and over again. So I also see the hymns as generational worship, generational connectors, you know, as they have been to the past generations, so I want them to continue to be that.
JONI: Recently I was so blessed, humbled, when you invited me to do harmony, to sing along with you on an original piece that you wrote – not a hymn – a contemporary song called "Number of My Days" and it is from a favorite verse, Psalm 90, verse 12, "Teach me to number my days, O Lord, that I might apply my heart to wisdom." What inspired you to write this song?
TOMMY: Well, I was just sitting depressed, realizing that I will be forgotten one day when I die and then the Lord reminded me, "But you'll never be forgotten in the world yet to come, because you will be with me." That and going along with just wanting to be a person that has heaven ever before me.
JONI: (Singing): It won't be long I'll be forgotten by this world…
TOMMY: (Singing): I'll never be forgotten in the world that's yet to come, 'cause I'll see the One who knew me before I was known.
JONI/TOMMY: (Singing): So I'm counting the number of my days.
JONI: You know, Tommy, I often say to people when they ask 'how do you manage quadriplegia, life in a wheelchair, cancer, chronic pain? I tell them I sing my way through suffering. Good advice, would you agree?
TOMMY: Absolutely. Singing forces us to put our whole being into declaring what is actually true. According to Google, at least, over 200 times the Bible mentions to sing to the Lord and I think it's because it is a way of expressing what is absolutely, actually true with our whole being.
JONI: Well, Tommy again you helped me sing my way through suffering because any one of us, my friends listening, we've got hardships, our emotions, our feelings, have us go constantly wayward thinking the most darkest thoughts, doubting the goodness of God, doubting His sovereignty, but it is the doctrine, the solid good words of timeless hymns that were written by people who suffered much that helps us keep the ballast. So, Tommy, thank you for doing that.
TOMMY: Amen.
JONI: I really want you to see this video of Tommy and I recording,
TOMMY: "Number of my Days"
JONI: Thank you! Just go to joniradio.org today where I've got a link to Tommywalkerministries.org and you'll have a chance to not only see the video of the day that we actually recorded that fun song, but also check out his other albums there, especially "Generation Hymns." Tommywalkerministries.org and enjoy the entire website, check it out, and sing along. Thanks Tommy.
TOMMY: Thank you, Joni.
By: Joni Eareckson Tada
© Joni and Friends
Featured Resources From Joni Eareckson Tada: Sharing Hope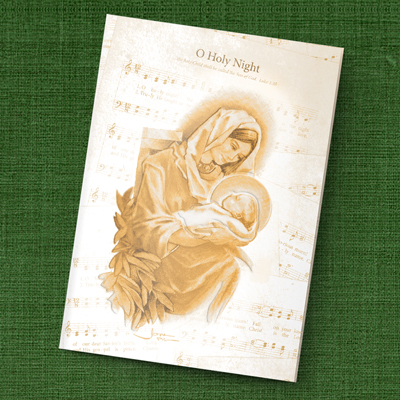 O Holy Night - Christmas Cards
Joni loves sending Christmas cards and singing Christmas hymns! This year her new Christmas card brings the two together. Featuring Joni's rendering of Mary cradling Jesus, set against a background of "O Holy Night" sheet music, this elegant card will bring the joy of the season to your friends and family members.
Order Yours!