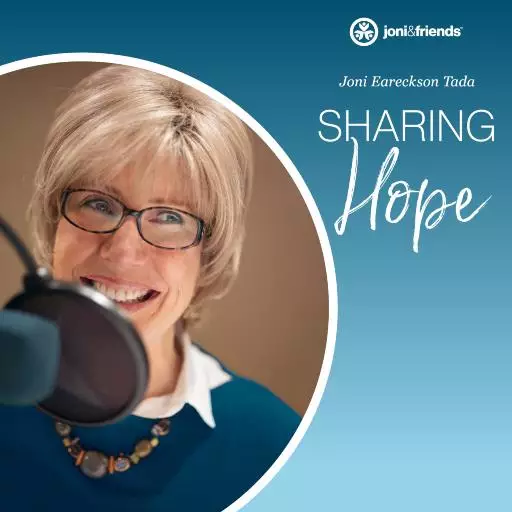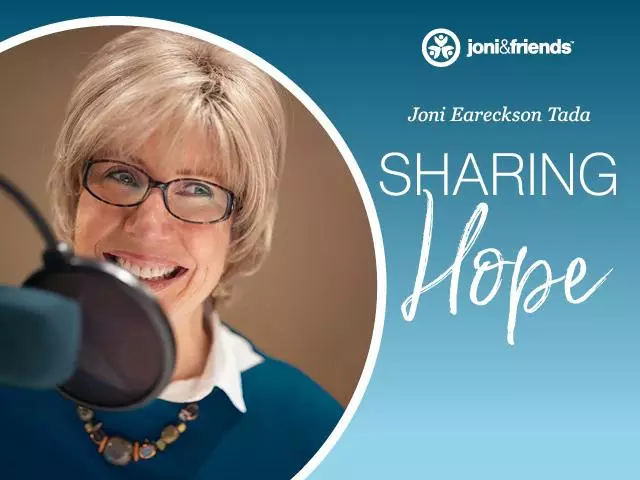 Our New Logo
January 15, 2019
Hi, I'm Joni Eareckson Tada and welcome to the new year!
And what does God say about it? Well, He says I'm going to do a brand new thing. See, I've already begun. That's from Isaiah Chapter 43, verse 19 and a good verse it is for me personally and for the ministry of Joni and Friends. Because this year, 2019, Joni and Friends has reached an amazing milestone: we are celebrating 40 years of Christ-centered outreach to the people with disabilities and their families all around the world.
As we begin 2019, I see it as the start of a new era; God is going to do a brand new thing because Joni and Friends is not just about my work; it's about the heart-felt service of all the "friends" connected to Joni and Friends and that's YOU whether you tune in daily to Joni and Friends here on this station, or you volunteer at our Family Retreats, or you have served with us on a Wheels for the World team, or used our curriculum on your special needs Sunday school – whatever. However you are involved, this 40th anniversary is about you too. Because when it comes to this ministry, we all have an important part to play for we all have a place in the global movement to reach the poor and the injured and the lame and the blind. It's a movement that is surging across new countries that we are now reaching into through Joni and Friends.
If you appreciate, if you pray for or support, or if you serve with Joni and Friends, then you have embraced the Luke 14 call of Jesus. Our Savoir wants every one of us to compel the poor and the crippled and the blind and the lame to enter His Father's house.
And I have something else new and fun to announce. Something that goes with our anniversary and with this new year of outreach because as we enter this era of expanding global outreach with you, Joni and Friends is marking it with a brand new ministry logo. A logo that represents our mission and the people we serve. The logo includes an innovative icon that highlights the different things we do; like friends supporting one another, upholding Bibles encircled by a wheel of the world. Our video tags even focus on a cross within the icon. I would love for you to see this icon that from now on will go with the name of Joni and Friends and you can see it right now at joniradio.org.
Speaking of other new things, we have also rewritten the text of Joni and Friends. We are minimizing that big, blue sweeping "J" in my name and from now on it will be simple, more refined and more contemporary because now the words "Joni and Friends" are in lower case as one word, because we serve as one together with you, the friends who make up the Christ-centered backbone of our ministry. I never, ever want this ministry to be focused on me, but on Jesus and the precious hurting people we are reaching together with you. We serve as one together with Jesus. So, if you would like to see this new text that we will be using on our newsletters and correspondence, again just go to my radio page at joniradio.org.
Hey, it's a fresh look for our ministry as we head into the future lifting up Christ and His gospel. I'm so grateful to God and to you for bringing us to this milestone 40th anniversary, wow! Together as friends let's carry the torch of the gospel into the decades to come because it's all about the future and filling God's house with the world's oft neglected friends around the world with disabilities. Again, take a look at that icon in our new text at joniradio.org. And by the way, if you have a prayer request, let me know on our radio page and our Joni and Friends staff will lift up your need before the Lord. God bless you today, and thanks for listening to Joni and Friends.
© Joni and Friends
Featured Resources From Joni Eareckson Tada: Sharing Hope

Majestic Mountain Set
This elegant cutting board and tea towel set makes the perfect gift for any occasion. Both pieces feature Joni's inspiring "Majestic Mountain" artwork, and the encouraging words of Psalm 36:5,6: "Your love, O LORD, reaches to the heavens, your faithfulness to the skies. Your righteousness is like the mighty mountains."
Get Yours Today!