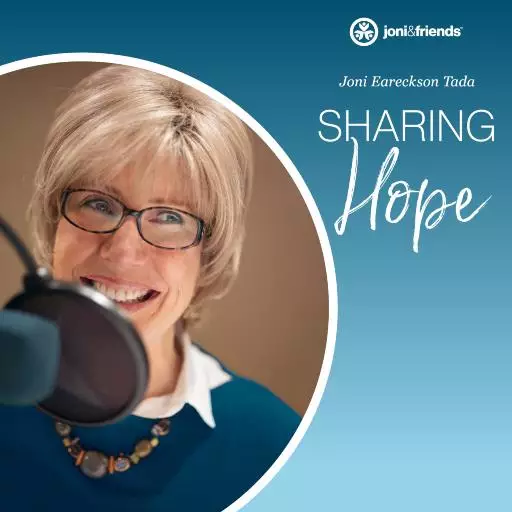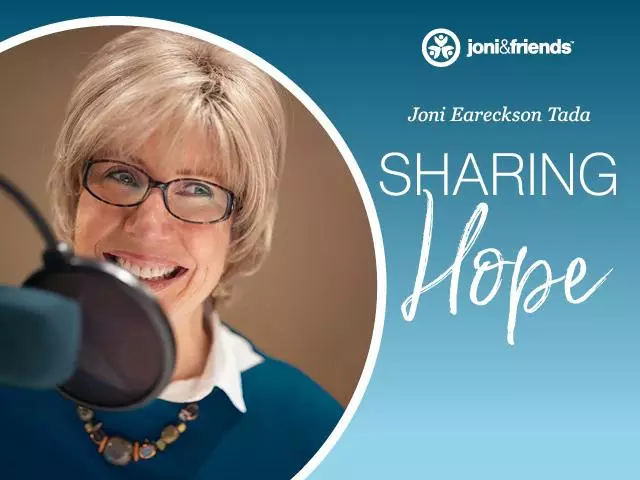 New Year's 2019
January 1, 2019
Hi, I'm Joni Eareckson Tada and hurray, it's Tuesday!
The week has just begun and with it the start of the New Year! Oh, my goodness! Does that sound like the beginning of an adventure, or what? For me it's kind of like, roll up your sleeves, rub your hands together, and let's get going into this New Year.
Now what I like about 2019 is that, so far, (we're just one day into it, okay) it is unscathed, untouched, and it's to be explored. It kind of reminds me of that passage in Isaiah 43 that says, "I am the Lord, who opened a way through the waters, making a path right through the sea. I called forth the mighty army of Egypt with all its chariots and horses to lie beneath the waves. But forget that [God says], it is nothing compared to what I'm going to do, for I am going to do a brand-new thing. See, I have already begun. I will make a road through the wilderness of the world for my people to go home." Is that a great verse, or what? I sure do like the idea of God's people going home. Do you think it could happen, even in 2019? Well, whatever happens, it's going to be a brand new thing. God promises.
It is a great attitude to have as we start off the New Year. I mean, think of it: was last year, 2018, a year of special memories for you? Was this past year one that lifted you to new spiritual heights? Do you look back on a couple of warm sweet moments and wonder if you will ever experience that kind of joy again this year? Well, although each of these 2018 memories may be special, please remember, God wants to do a new thing with you. Because the Lord always wants to take us to new heights. I have an idea that His plans for you for this year may even outshine the past. He's preparing surprises; He's getting ready to fill your days with good reasons to give Him praise.
Friend, this is why you can begin 2019 with an "Isaiah 43" attitude. Don't expect the Lord to do the same thing in exactly the same way He did this past year. Don't ask God for something He's already done. God never does encores, so expect something fresh. Look for something new. This year could really take you by surprise.
So if you don't, mind on this first day of the year, let's join our hearts together and spend a moment praying, so together, let's pray, "Lord Jesus, we stretch our faith right now and together we want to believe You for something far greater than what happened last year. We want to believe you for more souls saved within our network of friends and family, because we trust that You are able to do immeasurably more than all we ask or imagine according to Your power that is at work within us. Thank you for that promise of Isaiah 43, which tells us to forget the former things, the old things, and not to dwell on this past year. We want to look forward to the new things you are going to do; to the new ways you are going to express yourself. To the new insights you will give us in your Word; to new depths of prayer; to new relationships and friendships. We pray for peace in our troubled world, especially for peace in the Middle East. We pray for those who need to know Jesus… we pray for those who are sick or injured… we lift up our families and we pray for our country. Oh, my goodness, yes we do, oh Lord, we trust in you. It's a big year but we hold onto Your hand, Lord God because you are a big God, so we pray: lead the way!"
Featured Resources From Joni Eareckson Tada: Sharing Hope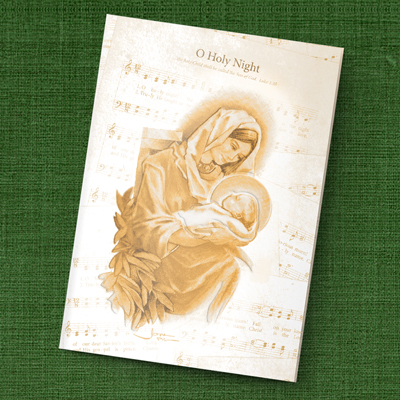 O Holy Night - Christmas Cards
Joni loves sending Christmas cards and singing Christmas hymns! This year her new Christmas card brings the two together. Featuring Joni's rendering of Mary cradling Jesus, set against a background of "O Holy Night" sheet music, this elegant card will bring the joy of the season to your friends and family members.
Order Yours!