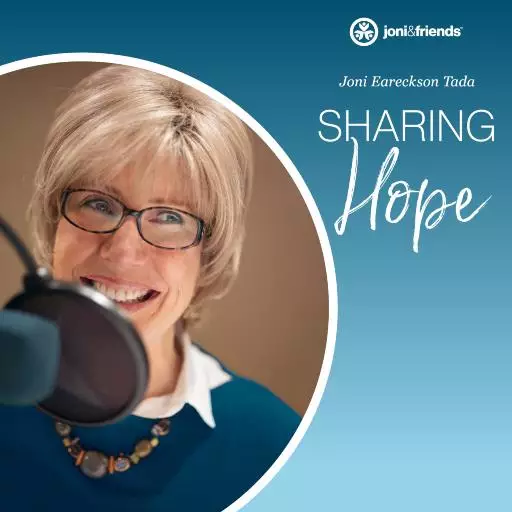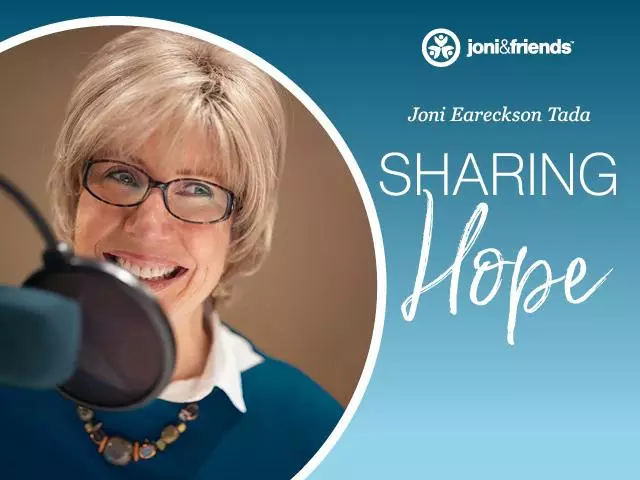 Heart for the Disabled – Ryan and Brittany
January 7, 2019
Hey, it's Heart for the Disabled week here at Joni and Friends!
Thanks for joining me, Joni Eareckson Tada, as we begin my favorite campaign of the year. This is when I ask you to take a few minutes to write a note of encouragement to special-needs families who attended last summer's Family Retreats. Many of you have done this before (once again, last year you beat the record; the response was overwhelming) and it has meant the world to these kids with disabilities and their parents who receive, well, Valentine's cards, letters, notes with scriptures, words of a hymn, inspirational poems, gifts. And today, I'm thinking of Brittany, her husband, Ryan and their three beautiful daughters – Juliette, age 13, Audrey age 11, and Little Brook at 8 years old who is nonverbal and has multiple disabilities, including cerebral palsy, developmental delays, a visual impairment (can you believe all this), and seizures.
Last year this family came to Family Retreat a little reticent, a little nervous and apprehensive about how they'd be received. Because Brooks seizures are nonstop and, at times, are pretty violent. In fact, they are life-threatening. You see, Brooke takes a medication to control the aggressive seizures, but these medications have a devastating side effect. The drug is damaging Brooke's vision in both eyes, slowly destroying the retina and causing cataracts. Her parents, Brittany and Ryan, are facing a choice no parent wants to have to make. They either stop the medications that control these seizures or they continue the medications at the risk of causing total blindness for their little daughter. Doctors have tried 15 other seizure medications which have all failed. Emergency hospital visits are routine every week for this family, and the physical and emotional toll it's taking on everyone is just overwhelming. Yes, Brooks' older sisters are amazing helpers, but the pressure of having a sibling with a significant disability has really been a burden on these sweet girls – Juliette suffers from migraine headaches, and Audrey struggles with anxiety.
Now here's the thing: Brittany and Ryan and their daughters know nothing about our Heart for the Disabled program, and with a card or note from you, you can assure this young family that you are praying for them, especially for Brooke and her sisters. They just want to know they're not alone; that God will see them through; that there is hope. And friend, you can offer that hope by sharing some uplifting scriptures, praying, or ask your children or grandkids to crayon a picture for Brooke. Maybe send a gift card to McDonald's or tuck a favorite inspirational poem in the envelope. Be as creative as you'd like, but please, just let this little family know that you are cheering them on and interceding for them.
Send your scriptures, card, note or letter to Ryan and Brittany, and their daughters, Juliette, Audrey and little Brooke with her disabilities. Send it in care of Joni and Friends, P.O. Box 3333, Agoura Hills, CA 91376. If you miss any details, I'm posting this story on my radio page today at joniradio.org. Oh, and would you please extend hope to this weary family? We need you to send your note in right away to ensure it arrives in their mailbox in time for Valentine's Day. Again, pray for this family and write your card today and send it to Joni and Friends, where we love serving families like Brittany and Ryan's in the name of Jesus. Thank you for having a heart of the disabled.
Featured Resources From Joni Eareckson Tada: Sharing Hope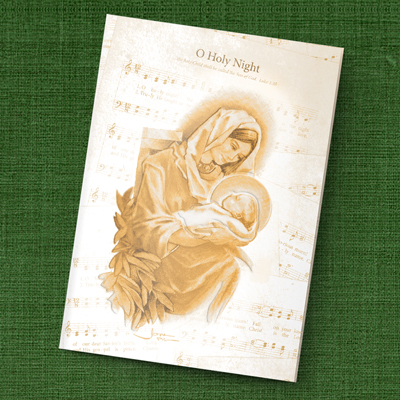 O Holy Night - Christmas Cards
Joni loves sending Christmas cards and singing Christmas hymns! This year her new Christmas card brings the two together. Featuring Joni's rendering of Mary cradling Jesus, set against a background of "O Holy Night" sheet music, this elegant card will bring the joy of the season to your friends and family members.
Order Yours!