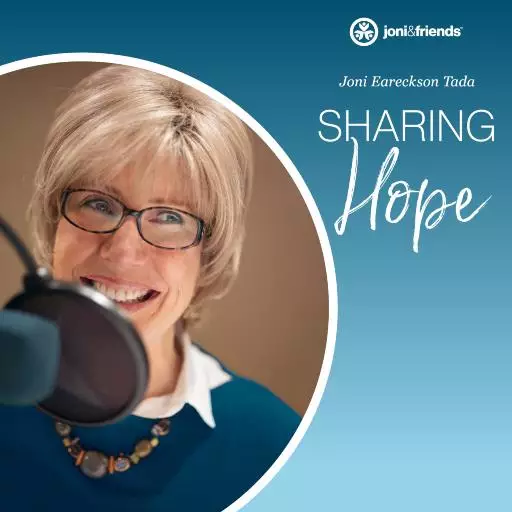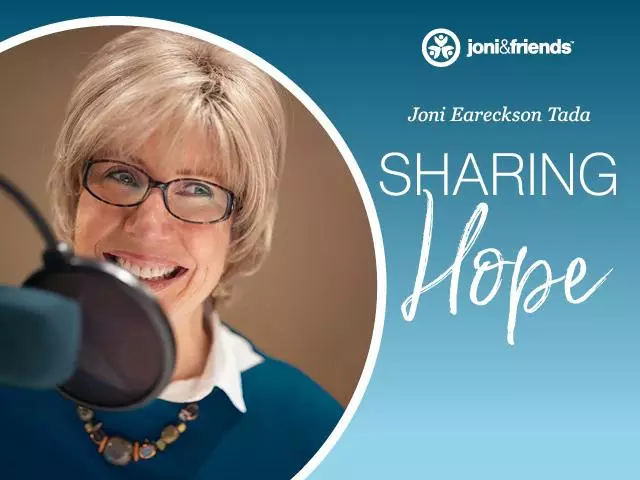 Disability Tips
February 6, 2019
A disability doesn't have to destroy you – that's today's issue on "Joni and Friends".
Hi, I'm Joni Eareckson Tada and I'll be the first to confess: when you get that bad medical report, when you learn the broken neck means paralysis, when you hear you have some terminal disease, when any of these physical hardships hit you broadside, it can come close to breaking you. I've experienced many of these things and Jesus is right when He said, "In this world you will have trouble." Because this world is so very broken, and God wired it to be very difficult. Disability is part of it and it is not easy. And it's the little things that can get you down -- like this battle with cancer you know I'm going through right now? It's making it harder for me to feed myself with my right arm where the muscles have been weakened where I had the tumor removed. Suddenly something that I had taken for granted for decades has been taken away from me – so for the first time, as I sit at the dining room table with Ken (having to feed myself everything on my plate), well… let's just say Ken has to help me, and sometimes he has to have the Kleenex nearby, because it's just so disappointing.
But I have learned these many years that embracing God in the midst of a physical affliction involves a lifetime of small choices. And if you are going through a physical hardship right now, I invite you to join me in committing to four simple things: First, give thanks to God for great and small things. I Thessalonians 5:18 tells us that in everything we are supposed to give thanks. So as I'm sitting there at the dining room table, I'm thanking God -- but I can't feed myself as well as I used to. It prevents bitterness from getting a toehold.
Next, if you want to learn how to embrace God in the midst of a disability, learn to look out for other's interests before your own. I often say to Ken: "No, no, it's your turn to take a bite of your own food." Philippians Chapter 2 tells us to do that, even though a disability seems to scream for your own attention; even though your arthritis or autoimmune disease can turn your focus inward, learn to resist that temptation, and always think about other's needs. I'll encourage Ken 'Oh, take a break from helping me, you help yourself.'
Another tip: Take responsibility. Galatians Chapter 6 tells us that we need to carry the load that God gives us. Yes, there are many ways others can share your burden, but you are the one who must face your own physical limitations head-on. So as much as possible, manage the needs surrounding your disability. Are there things you can do for yourself? Then do them (I tell you, trying to feed myself with weak muscles is not easy. More food spills on my lap than gets in my mouth). But I want to encourage you as the weeks have gone by and as I am getting near to the end of radiation, I am able to feed myself a lot better and I was never so thankful as when I was finally able to feed myself again with my right arm).
Finally, if you want to learn how to embrace God in your hardship, then don't forget to have hope in your future. God's plans are not to harm your soul, but to strengthen it, to refine and mature your soul. Friend, our cynical world is looking for Christians who will act on their beliefs and exhibit grace in hardship. So I'd like you to join me in this challenge. After all, He does have the final word. God gives it and the word is 'hope'. Hey, if you'd like to learn how to help people with disabilities like me, then contact joniradio.org and ask for your free copy of "Start with Hello." Because there's so much hope available for anyone with a disability, and I should know having had to learn to feel myself all over again. So go to joniradio.org today and ask for the free booklet "Start with Hello."
Featured Resources From Joni Eareckson Tada: Sharing Hope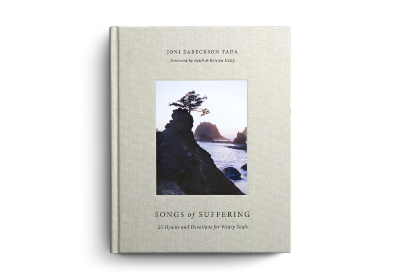 Songs of Suffering
Songs of Suffering includes 25 hymns with accompanying devotions and photography designed to spark hope in hardship. Opening with a special message from hymn writers Keith and Kristyn Getty, this book is a source of comfort for anyone who needs biblical encouragement, prompting readers to seek refuge in the Lord and rejoice in his goodness.
Get Yours Today!