Update Required
To play the media you will need to either update your browser to a recent version or update your
Flash plugin
.
How do you answer the questions of those truly seeking to learn who Jesus is? How do you distinguish a true prophet from a false prophet? How can religious groups quote the Bible and teach doctrines contrary to the Bible? What is the biblical evidence for the doctrine of the Trinity? What is the meaning of the doctrine of the Trinity? Are Mormons Christians? Do they believe one is saved from the penalty of sin by faith alone in Jesus and his death and resurrection? Is Jesus Christ one of many messengers sent from God like Buddha, Zoroaster, Confucius and Muhammad? Do all roads lead to Heaven?
Featured Resources From Ankerberg Show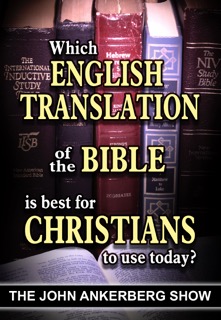 Which English Translation of the Bible is Best for Christians to Use Today?
Are today's modern translations really the Word of God, or can this only be said about the 1611 King James Version? Did God protect only the Apostles and their original writings from error, or did He also protect certain manuscripts throughout history? Did the editors of the 1611 KJV claim perfection for their own version? What about the allegations in Gail Riplinger's book, New Age Bible Versions, concerning the editors of the newer versions? Are the doctrines of Christ's deity, the Trinity, and salvation by grace alone denied in the newer versions? Eight guests, including some of the editors of newer versions, discuss these issues.
Order