THE FEAR FACTOR
And Moses said to the people, "Do not be afraid; for God has come in order to test you, and in order that the fear of Him may remain with you, so that you may not sin."
Exodus 
20:20
The Bible tells us in the book of Proverbs that the fear of the Lord is critical.  It is the beginning of wisdom, the beginning of knowledge, and the underlying character trait that leads to life, honor, and victory over sin. 
 
One of the major problems in our world today is the distinct absence of the fear of God.  Whenever a person, family, community, or nation loses its fear of God, it loses its moral compass and sense of true north.  Incivility, immorality, selfishness, and injustice become the order of the day—a fitting description of our current culture. 
 
The fear of God.  Do you have it?  Is it healthy and strong? 
 
In Exodus chapter twenty, God made His presence manifestly known to the children of Israel.  He appeared on Mount Sinai to give Moses the Ten Commandments.  He came with a display of awesome power that included thunder, lightning flashes, trumpet blasts, and smoke.  The people were terrified before the Lord.  They pleaded with Moses, "Speak to us yourself and we will listen; but let not God speak to us, lest we die" (Exodus 20:19).
 
I love the response Moses gives them.  He basically says, "Do not be afraid of God.  But make sure you always fear God."  Come again, Moses?  I am not to be afraid of God, but I am to fear God?  Isn't that a contradiction?  No. 
 
THE FEAR OF THE LORD DEFINED
 
The fear of the Lord that God wants for you and me is not quaking in your boots at the mention of His name.  It is not trembling in terror at the thought of an encounter with Him.  But that's exactly how the people felt in verse 19.  Moses had to dissuade that unhealthy fear.  You see, if you fear God that way, you will never get close to God.  How could you?  That type of fear would have you walking on egg shells, nervously dreading His presence and anxiously desiring His absence. 
 
So what does it mean to fear the Lord?  It means you have tremendous awe, respect, and reverence for God.  You recognize He is "the God of gods and the Lord of lords, the great, the mighty, and the awesome God …."  (Deuteronomy 10:17).  You see Him as the glorious, majestic King of the universe; and you take your proper place as His humble, lowly servant.  It means you are aware of His constant gaze over your every thought, word, and deed—and you adjust your actions accordingly.   
 
I once heard Adrian Rogers define the fear of God as "love on its knees."  I like that definition, because the one who fears God the most, truly loves Him the best.  The two go hand in hand.         
 
A HEART CHECK
 
So how are you doing with the fear of the Lord?  Are you growing in your awe and reverence for Him … or are you regressing in that important department?  There is an easy way to tell.  Just check your obedience.  When you fear God, you turn away from temptation and sin.  When you don't fear God, sin and compromise begin to dominate your life. 
 
What can be done if the fear of the Lord is lacking in you?  Spend time in the Word.  Read passages like Isaiah 6, Isaiah 40, Daniel 4-5, and Revelation 4-5.  Get a fresh vision of the holiness and greatness of God.  And pray the prayer of David, "Teach me Your way, O LORD; I will walk in your truth; Unite my heart to fear Your name" (Psalm 86:11).  May God unite our easily divided hearts so that we would fear Him once again. 
Love, 
Pastor Jeff Schreve,
From His Heart Ministries
---
Dr. Jeff Schreve believes that no matter how badly you may have messed up in life, God still loves you and has a wonderful plan just for you. From His Heart provides real truth, love and hope on over 700 radio stations each day, in 182 countries each week on TV, and is always available online.  Pastor Jeff takes no income from this ministry. All donations go to furthering the broadcast outreach. As a listener/viewer supported ministry, we thank you for joining with us to help speak the truth in love to a lost and hurting world. Go to www.fromhisheart.org for more information.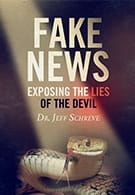 Fake News: Exposing the Lies of the Devil
In our world today, fake news is all around us.  Many news stories are found to be purposely misleading in order to sway the public. The same is true in the spiritual realm.  The devil is a liar; and he uses lies to try to steal, kill, and destroy.  In this eye-opening series, Pastor Jeff Schreve exposes the devil's lies with the truth of the Word of God, paving the way for us to walk in victory.