When You Want to Grow Spiritually
"Thou hast enlarged me when I was in distress…" - (Psalm 4:1 KJV).
While I was learning that God is there, real and personal I met with one of my mentors after I experienced the divine presence of God in a mighty way. I told Paris Reidhead, "My cup is just running over, Paris!" His response to me was: "How big is your cup, Dick? It doesn't take much to run over a thimble. Why don't you ask God to turn your thimble into a cup, your cup into a bucket, and your bucket into a truckload?"
I did pray that prayer, fervently. At that time I did not know that according to the verse above God's vehicle for that kind of growth is distress. If you want to know what distress is just drop the first two letters: God uses stress to grow us spiritually just as putting stress on our muscles grows us physically.
Over the next few years I found myself going through deep waters and fiery trials. When we had three toddlers and two in diapers my wife was hospitalized four times in one year in a hospital 100 miles away from our home. While I was the pastor of a church and the mother and father of our children the Lord enlarged me, big time!
Years later I lost my health and became a bed fast quadriplegic. That is when I really learned my "4 Spiritual Secrets" which have enabled me to minister beyond anything I could have imagined. Those secrets are written on this webpage.
When you want to grow spiritually I dare you to ask God to turn your thimble into a cup, your cup into a bucket and your bucket into a truckload.

---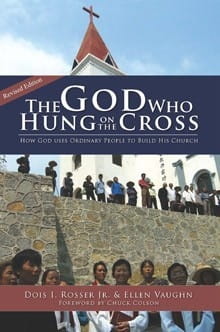 Free Book: The God Who Hung on the Cross
This newly revised paperback edition features reflections on 25 years in ministry by Dois Rosser. The book details the history and vision of ICM, the parent organization for the Mini Bible College, and the vehicle for distributing MBC to congregations around the world. Dois' story is an inspiration, encouraging Christians to give of their time and resources to experience the abundant power of God at work. Journey around the world with Dois and discover that you too can be a part of something bigger than yourself!