And I saw in the right hand of Him who sat on the throne a scroll written inside and on the back, sealed with seven seals. (Revelation 5:1)
In the apostle John's day, Domitian was the egotistical Roman emperor who forced people to call him Lord God. Nevertheless, his throne would soon become an empty one. The Lord God Almighty, however, shall reign forever on His eternal throne. God holds destiny in His hand, not simply in the political and historical arenas, but in your personal arena as well. On that benevolent throne above, which counters the malevolent powers below, there is a book of destiny and history that is held firmly in the hand of the living God.
---
See more of God and His amazing grace in your life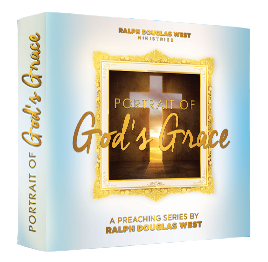 If God seems distant and disconnected from your daily struggles…If you feel unworthy of being called a Christian…Or if you're just not feeling the joy of your relationship with Christ…Then you need a fresh perspective on God that comes through Portrait of God's Grace. This 5-CD message series from Pastor West will help open your eyes to God's work in your life as you experience more of His amazing grace.