And Elijah. . .said to Ahab, "As the Lord God of Israel lives, before whom I stand, there shall not be dew nor rain these years, except at my word." (
1 Kings 17:1
)
When Elijah stands before King Ahab and announces that a terrible drought is coming, the king could have ordered him killed on the spot. Yet this prophet would never have experienced God's supply without his obedience to God's word. Similarly, the beginning of all God's blessings starts with our obedience to what His Word says. Do you need to experience God's surpluses in your life today? If you do, then today is the day to start obeying the Word of God. Obeying God is the first step toward putting you in a position to experience God's surprising suppliers.
---
Live a bigger life every day!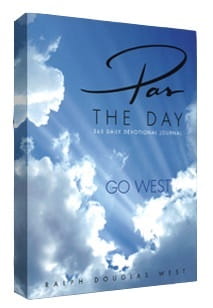 Every day when you wake up, the God of the universe is waiting to meet with you. He wants to encourage you and give you the strength to make His big dreams and purposes for you a reality.
As Hebrews 11:6 says: "He is a rewarder of those who diligently seek Him" (KJ21).
We want to help you seek and find His encouragement for you every day this year by sending you Pastor West's powerful 365-day devotional journal, Pas the Day.
With biblical truth, inspirational thoughts, and practical applications of God's Word, this daily devotional is the perfect resource to help you live above the everyday and walk closer to Christ in the year ahead.
Pas the Day is our gift to thank you for your renewed financial support below to help encourage more people with the life-transforming truth of God's Word in 2018.
Thank you for your generosity today – and be encouraged!