"Look at the birds of the air, for they neither sow nor reap nor gather into barns; yet your heavenly Father feeds them." (
Matthew 6:26
)
The longest migration by a bird is undertaken by the Arctic tern. It breeds in the Arctic North in the summer, then flies a circuitous route of up to 15,000 miles to the other pole to spend winter on the Antarctic Ice Pack. Regardless of their species, in every case of relocation for repopulation and replenishment, birds neither toil nor work. They are always in the right place at the right time to experience God's surprising supplies. If God does that for birds, what more will He do for people who make themselves available, dependent, and faithful unto Him?
---
Live a bigger life every day!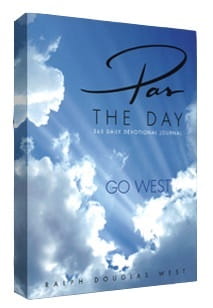 Every day when you wake up, the God of the universe is waiting to meet with you. He wants to encourage you and give you the strength to make His big dreams and purposes for you a reality.
As Hebrews 11:6 says: "He is a rewarder of those who diligently seek Him" (KJ21).
We want to help you seek and find His encouragement for you every day this year by sending you Pastor West's powerful 365-day devotional journal, Pas the Day.
With biblical truth, inspirational thoughts, and practical applications of God's Word, this daily devotional is the perfect resource to help you live above the everyday and walk closer to Christ in the year ahead.
Pas the Day is our gift to thank you for your renewed financial support below to help encourage more people with the life-transforming truth of God's Word in 2018.
Thank you for your generosity today – and be encouraged!