Therefore they said to Him, "What sign will You perform then, that we may see it and believe You?" (John 6:30)
If a sign says "290 West to Austin," and we believe we're in Austin just by touching it, we have missed the very thing the sign is pointing to—beyond itself. We have just turned the sign into the end. Likewise, when the Lord does miracles for us such as financial provision and healing, we think that is the end. Instead, they point to something beyond themselves. When the Lord performs any miracles on our behalf, He wants us to take what we've received into a place that doesn't already have it, thereby making a difference in the world.
---
Live a bigger life every day!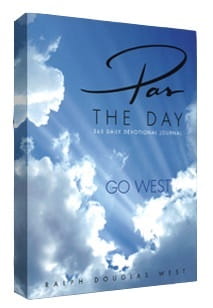 Every day when you wake up, the God of the universe is waiting to meet with you. He wants to encourage you and give you the strength to make His big dreams and purposes for you a reality.
As Hebrews 11:6 says: "He is a rewarder of those who diligently seek Him" (KJ21).
We want to help you seek and find His encouragement for you every day this year by sending you Pastor West's powerful 365-day devotional journal, Pas the Day.
With biblical truth, inspirational thoughts, and practical applications of God's Word, this daily devotional is the perfect resource to help you live above the everyday and walk closer to Christ in the year ahead.
Pas the Day is our gift to thank you for your renewed financial support below to help encourage more people with the life-transforming truth of God's Word in 2018.
Thank you for your generosity today – and be encouraged!