. . . that having been justified by His grace we should become heirs according to the hope of eternal life.  (Titus 3:7)
It is often said that a truly despicable person has no "saving grace" about him. Indeed, myriads of people feel that they have fallen from grace. They believe that no one is able or willing to restore them to the position from which they have fallen. Yet grace is God's ability to pick up the down and bring in the out. Grace is God's way of redefining us by removing all of our disqualifying labels. In other words, we are what God says we are.
---
See more of God and His amazing grace in your life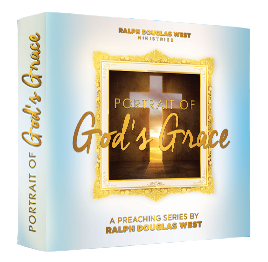 If God seems distant and disconnected from your daily struggles…If you feel unworthy of being called a Christian…Or if you're just not feeling the joy of your relationship with Christ…Then you need a fresh perspective on God that comes through Portrait of God's Grace. This 5-CD message series from Pastor West will help open your eyes to God's work in your life as you experience more of His amazing grace.