The 5 P's of Making Ethical Decisions – Part I
By: Rick Boxx
November 5, 2012
Author and Speaker Lee Strobel shared a message on Business Ethics at Woodmen Valley Chapel where he identified 5 Ps for making ethical decisions. The first P he mentioned is Purpose.
When making a challenging decision it's critical that you remember your purpose. If your purpose is to make money you'll often times make the wrong decision, but if your purpose is in alignment with scripture your decision will lead to a much different result.
1 Corinthians 10:31 teaches, "So whether you eat or drink or whatever you do, do it all for the glory of God."
Everything we do as Christians is to be for the purpose of glorifying God. When that's the motivation behind your ethical decisions you will find those tough workplace decisions easier to make.
Rick Boxx's Integrity Moments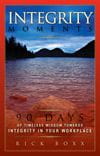 "Integrity Moments" is filled with biblical insights woven into real life stories that challenge you to be a model of integrity to your workplace. Click here to purchase
"How well are you modeling Faith, Integrity, Relationships, and Excellence in your work? Find out by taking Integrity Resource Center's free FIRE Assessment!"
Contact Rick Boxx at www.integritymoments.org, and to learn more about Integrity Resource Center go to integrityresource.org.