Mark's Meditation
By: Rick Boxx
November 4, 2010

A friend, I'll call Mark, was awarded a job by a general contractor who quit returning calls. Mark discovered that this contractor changed his mind, to go with someone cheaper.

Later, Mark met with this contractor. Mark was ready to tell him off when the Holy Spirit reminded him of Proverbs 29:11, on which he had been meditating. Mark held his tongue.

By the end of the meeting the contractor changed his mind again and gave Mark the job.

Mark was later reminded of God's promise in Joshua 1:8, "Do not let this Book of the Law depart from your mouth; meditate on it day and night, so that you may be careful to do everything written in it. Then you will be prosperous and successful."
Mark's scripture meditation paid off.
Contact Rick Boxx at www.integritymoments.org, and to learn more about Integrity Resource Center go to integrityresource.org.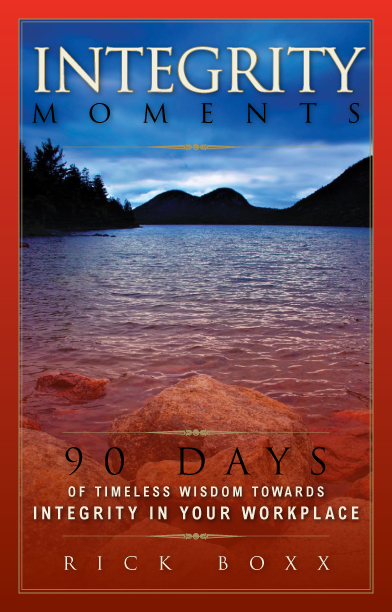 For more daily wisdom for the workplace check out Rick's devotional book "Integrity Moments." It makes a great gift as well!
Integrity Moments
90 Days of Timeless Wisdom Towards Integrity In Your Workplace
By: Rick Boxx