Business Fads
By: Rick Boxx
November 21, 2011
While working for a bank, I was asked to chair a task force on the biggest management trend in business at the time. It soon became obvious that it was all a show to please shareholders.
The CEO had no interest in the results of our work. Senior management undermined the work we did, and created ill will with many staff members.
In Matthew 23:2-3 Jesus told his disciples, "The teachers of the law and the Pharisees sit in Moses' seat. So you must obey them and do everything they tell you. But do not do what they do, for they do not practice what they preach."
In business, you need to obey your boss' directives, yet, if you're the leader, you need to practice what you preach, or don't preach it.
Mike Frank's Prosperity with Purpose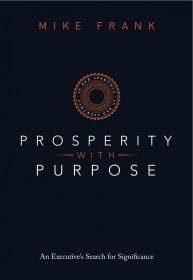 "If you are an executive that thrives on business but are thirsting for more, this book may be your story as well. I can't give you the formula for success, but I can show you how to live a life of relentless purpose…which may or may not include profound wealth". Click here to learn more.
"How well are you modeling Faith, Integrity, Relationships, and Excellence in your work? Find out by taking Integrity Resource Center's free FIRE Assessment!"
Contact Rick Boxx at www.integritymoments.org, and to learn more about Integrity Resource Center go to integrityresource.org.