Total Obedience
By: Rick Boxx
May 23, 2013
Deborah was a courageous woman who ruled Israel. In Judges 4 we read that Deborah informed a man named Barak that God was commanding him to take 10,000 men to Mount Tabor to defeat their enemy, Sisera and his army.If Barak was obedient, God promised him victory!
In Judges 4:8 we read, "Barak said to her, "If you go with me, I will go; but if you don't go with me, I won't go."
Barak's conditional obedience resulted in a consequence. The victory had been intended for his credit, but because of his partial obedience, the slaying of Sisera and credit for his death was given to a woman.
If God has given you direction for your work, personally or through His Word, take heed and be completely obedient.
Integrity Resource Center can help train your team or consult with your organization on shaping a biblically based culture. Learn more
Rick Boxx's How to Prosper in Business without Sacrificing Integrity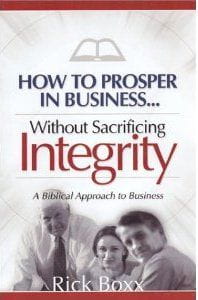 To survive long term, businesses must be profitable. You can accomplish this objective with integrity, or you can do it by whatever means you feel justifies the end, such as fraud, deceit, and ruthless business practices. Purchase here!   
"How well are you modeling Faith, Integrity, Relationships, and Excellence in your work? Find out by taking Integrity Resource Center's free FIRE Assessment!"
Contact Rick Boxx at www.integritymoments.org, and to learn more about Integrity Resource Center go to integrityresource.org.