The Pendulum Swings Back
In the late 1990s, due to many corporate scandals, there became a push towards company boards being led primarily by independent directors. A recent study, however, referenced in Forbes magazine, discovered that the focus on independent boards has been overdone.
The Wall Street Journal reports that of the 1,500 Standard & Poor's company boards, the numbers have grown to 50% only having one insider. This study discovered, however, that when there's only one insider on a board there's much higher CEO compensation and more financial misconduct. The CEO can easily control the flow of information.
Proverbs 18:17 teaches, "The first to plead his case seems right, until another comes and examines him."
If you serve on a board, it might be time to consider if you have enough insider insight.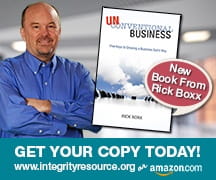 Learn more about Rick Boxx and Integrity Resource Center