Creative Financing
By: Rick Boxx
February 26, 2013
One day a business owner called for counsel. He had built his business without debt, but had recently landed a contract with a major corporation.
The contract was for $500,000, but to complete it this entrepreneur needed $250,000 for equipment. He felt he had no option but to borrow the money.
He and I discussed options, prayed together, and then I urged him to ask his customer for a 50% deposit. He was confident they would refuse.
Days later he called me elated. "They wrote me a check for $250,000!" he shouted.
Psalm 18:30 teaches, "As for God, his way is perfect; the word of the LORD is flawless. He is a shield for all who take refuge in him."
Never assume debt is the only answer! God is the answer.
Integrity Resource Center can help train your team or consult with your organization on shaping a biblically based culture. Learn more.
Stanley Tam's God Owns My Business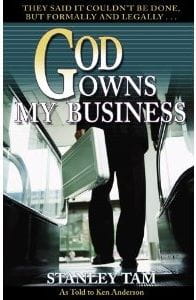 Building a multi-million dollar business with only $37.00 capital is impossible. To even hope of succeeding with a process that four other companies tried and failed is impractical. But this man did it, because he found the right answer to business success. God Owns My Business is the amazing biography of a man who built the first business of it's kind ever to succeed in the United States. Purchase here.
"How well are you modeling Faith, Integrity, Relationships, and Excellence in your work? Find out by taking Integrity Resource Center's free FIRE Assessment!"
Contact Rick Boxx at www.integritymoments.org, and to learn more about Integrity Resource Center go to integrityresource.org.