The Older Man in the Room
One business leader, Kevin, mentioned to me that he now finds himself adjusting to the fact that he is now often the oldest man in the room. Kevin realizes that as he used to look up to his elders, now others are looking up to him for guidance.
In our insecurities, we can doubt we have much to offer, even with age. But as we age and mature, God may want us to own these times when our voice may be needed to humbly guide younger leaders.
In Titus 2 we read, "Encourage the young men to be self-controlled. In everything set them an example by doing what is good."
With age and maturity comes added responsibility. Be prepared to be an example and encourager to those younger than you.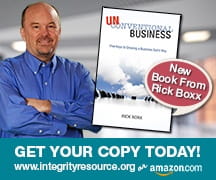 Learn more about Rick Boxx and Integrity Resource Center