The Hard Truth
By: Rick Boxx
December 28, 2012
My wife, Kathy, and I were checking into a hotel when Kathy asked the clerk, "Have you had any problems with bedbugs?" She looked us in the eyes, said "Yes," and then confidently explained the last time they had experienced bedbug problems.
She went on to describe in detail the intensive, and expensive, steps they took to eliminate the problem. She calmed our fears, promised us she was assigning us a room that didn't have any problems, and then challenged us to check out the room. She later phoned us to make sure we were comfortable.
Proverbs 12:22 teaches, "The Lord detests lying lips, but he delights in men who are truthful."
Our clerk could have lied to us and we may never have found out, but God would.
Joel Manby's Love Works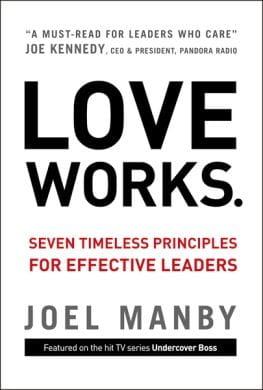 Manby challenges leaders to allow integrity and faith to guide leadership decisions, outlining seven time-proven principles that break down the natural walls within corporate cultures, and cultivating an atmosphere that builds long-term success. Purchase here.
"How well are you modeling Faith, Integrity, Relationships, and Excellence in your work? Find out by taking Integrity Resource Center's free FIRE Assessment!"
Contact Rick Boxx at www.integritymoments.org, and to learn more about Integrity Resource Center go to integrityresource.org.