Elijah the Courageous Part II
The prophet Elijah's faith was fortified when God provided for him during a long drought. Ravens brought food to Elijah daily, to a brook that seemed to have endless water.
Then one day, the water ran out! In 1 Kings 17:9 Elijah was told, "Go at once to Zarephath in the region of Sidon and stay there. I have directed a widow there to supply you with food."
King Ahab's wife, Jezebel, was from Sidon. If Elijah had been caught in Sidon it would not have ended well. But Elijah, being a man of courageous faith, went to Sidon.
God often builds courageous leaders by expanding their faith a little at a time. If God is asking something big of you, remember your last faith journey and step forward confidently.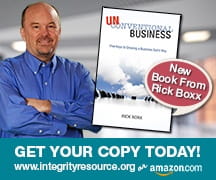 Learn more about Rick Boxx and Integrity Resource Center