Not a Game of Chance
By: Rick Boxx
August 31, 2015
From the outside, it appeared luck, chance, and timing played a major influence in Dan's ability to poise his company at the top of his industry. In talking with Dan, however, he unveiled a different path toward success, one lined with failure, doubt, and struggles.
It was his ability to persevere through the adversity, not luck or timing, which allowed him to succeed. Our ability to reach our goals are not contingent on luck, chance, or even circumstances, but as a result of God's favor combined with our effort.
Proverbs 14:23 shows us that hard work, not chance, brings prosperity, "All hard work brings a profit, but mere talk leads only to poverty."
Today, be encouraged that your destination is not determined by chance or circumstances, but by God's favor and your efforts.
Today's "Integrity Moment" was adapted with permission from the writings of Matt Cline.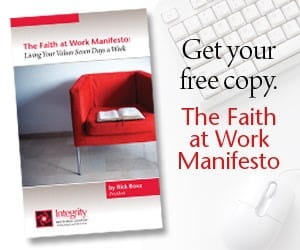 Learn more about Rick Boxx and Integrity Resource Center