5 Star Review
By:Rick Boxx
August 30, 2016
Matt's chest tightened as he listened to the voice mail from Roger, an unsatisfied client. "Matt, we won't be needing your services any longer. Your company dropped the ball on this project."
Instead of making excuses or begging for a second chance, Matt responded with offering a 100% refund as well as a personal guarantee to correct the problem. Rogers's frustration and disappointment suddenly softened.
Encouraged with how Matt handled the situation, Roger responded with a 5-star online review and the opportunity to continue with their business relationship.
Proverbs 28:13 says, "He who conceals his sin does not prosper, but whoever confesses and renounces them finds mercy."
Today, own your mistakes and embrace failure as an opportunity to showcase your heart. God, and others, will honor this.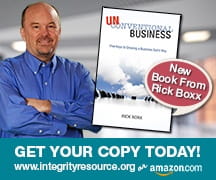 Learn more about Rick Boxx and Integrity Resource Center