Pastoring the Influential
By: Rick Boxx
April 19, 2013
Jim is a pastor who had an upcoming meeting with the CEO of a very significant company. Jim asked for advice on what agenda he should have for the meeting with this new attendee to his church.
Since the church was in the midst of a building campaign Jim didn't want this executive to think this meeting was about money. It was simple advice, but I recommended that Jim learn about his new attendee, personally, and ask how the church could best serve this leader in his important leadership role.
In John 21:16 Jesus instructs Peter, "If you love me," Jesus said, "Take care of my sheep."
Many CEOs are in a lonely position. A wise pastor simply cares for his flock by getting to know them, and by serving them.
To determine how well you are living your faith at work take our free FIRE assessment.
John Dickerson's The Great Evangelical Recession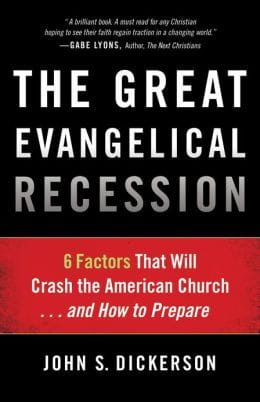 Nationally-awarded journalist John S. Dickerson assembles and interprets studies from dozens of leading researchers-both secular and Christian. After demonstrating the undeniable decline of Christianity in the U.S., Dickerson builds a Biblical case for course correction. Click here for more information.
"How well are you modeling Faith, Integrity, Relationships, and Excellence in your work? Find out by taking Integrity Resource Center's free FIRE Assessment!"
Contact Rick Boxx at www.integritymoments.org, and to learn more about Integrity Resource Center go to integrityresource.org.