A Generation without the Proverbs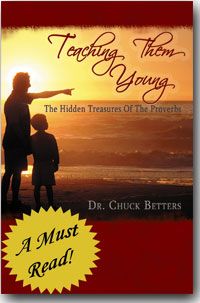 The fundamental principle in my sermon series and book entitled "Teaching Them Young" is that the first nine chapters of the book of Proverbs were written for the purpose of teaching parents certain principles that must be learned before a child becomes a teenager. In fact the first nine chapters of Proverbs are designed as father-son instructions.  
Behavioral science tells us that a child's personality is fully formed by the time he or she is five years of age. This means that from the age of five the trunk of the tree of a child's personality has already been shaped. It is either growing straight or crooked. The foundation has already been laid. This does not mean all is hopeless if that personality is shaped in a wrong way. That would defy the purpose of the Gospel to redeem fallen people. It simply means that the battle will be greater and much more intense. But the Proverbs gives us tools we can place in the hands of our children that will equip them to walk by faith in a broken world.
Every generation that neglects the principles outlined in the first nine chapters of Proverbs will suffer greatly. The last American generation to raise their kids on the Proverbs may have been the first generation close to 250 years ago. Our present American culture has forgotten the principles of the Proverbs. In fact Scripture holds no place in many homes today. That was and is my motivation and purpose in writing the book. If for no other reason, I want my kids and grandkids to know that, in my own flawed way, I tried to drive home the message of the Proverbs.
We must return to the proverbs. The principles of Godly leadership and Biblical parenting cannot be made any clearer than we see in the first nine chapters of Proverbs. I challenge you to study these chapters, especially those of you who are young. Proverbs 1:7 speaks of a binding and eternal trust between a child and his or her God. Will you raise your children on the Proverbs?
DIGGING DEEPER: Proverbs 1:1-7, ESV
The proverbs of Solomon, son of David, king of Israel: 2 To know wisdom and instruction, to understand words of insight, 3 to receive instruction in wise dealing, in righteousness, justice, and equity; 4 to give prudence to the simple, knowledge and discretion to the youth—5 Let the wise hear and increase in learning, and the one who understands obtain guidance, 6 to understand a proverb and a saying, the words of the wise and their riddles. 7 The fear of the Lord is the beginning of knowledge; fools despise wisdom and instruction.
SPECIAL OFFER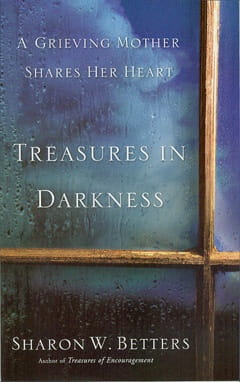 "In twenty years of women's ministry I have never read such a compelling, painfully real, transparent perspective on grief...Do you know of someone struggling with grief and loss? This treasure needs to be the first gift you place in their hands." Tammy Maltby, co-host of Aspiring Women and author of 'Lifegiving'.

"...Sharon squarely faces personal pain and tenderly offers the realities of faith to provide a journey to hope even through our darkest nights." -Bryan Chapell, Covenant Theological Seminary.

"Recognizing that our lives here on this side of heaven will be fraught with darkness and sorrow, Betters's experience with grief will encourage and comfort you. With biblical wisdom and gentle insight, she'll draw your broken heart up to where hers is resting safely in the loving arms of the Savior. I heartily recommend this book."  -Elyse Fitzpatrick, Author of Idols of the Heart, Give Them Grace

FREE with each book: Loss of a Loved One CD, one hour long interview with Chuck and Sharon Betters. Retail Value: $12.95
For more information from In His Grip with Dr. Chuck F. Betters please visit http://www.markinc.org/
https://www.oneplace.com/ministries/in-his-grip/