"Porque ¿Que aprovechará al hombre si ganare todo el mundo,
y perdiere su alma? " (San Marcos 8:36) No hay nada mejor que una visita al cementerio para poner nuestras vidas en perspectiva. Vivimos en un mundo donde "todo se trata de mi," y aun siendo creyentes, es muy fácil caer en esa mentalidad y sentirse abrumado con la urgencia de llenar todo lo que yo quiero, yo necesito, mis sentimientos, mis deseos.
El materialismo depende precisamente de esa urgencia; la publicidad apoya esto. Si simplemente pudiéramos ganar la lotería, escribir aquel libro de gran éxito, comprar una casa más grande, un coche más lujoso, ropa de diseñadores, seriamos más felices, más realizados, más satisfechos. Y, por supuesto, ¡Serviríamos a Dios con todo el corazón!
La verdad es, que esa mentalidad… bueno, simplemente no es real. Si no estamos sirviendo a Dios con gozo y con todo nuestro corazón a donde estamos hoy y con lo que tenemos ahora, no lo haríamos con todo el dinero que podríamos heredar mañana. Si dudamos ésta declaración, es tiempo de hacer una visita al cementerio.
Los cementerios están llenos con personas que fueron indispensables, personas cuyas vidas fueron alguna vez muy significativas para alguien aquí en la tierra. Pero cuando tomaron su ultimo respiro y fueron bajados en la tierra, ¿Dejó el mundo de dar vuelta? ¿No? Entonces podemos asumir que tampoco dejará de dar vuelta cuando nosotros tomemos el último suspiro.
Así es que, ¿Qué es lo que nosotros podemos asumir haciendo esa visita al cementerio? Podemos dar prioridad a lo que vamos a hacer hoy – y que bien lo hacemos – haciéndonos una pregunta: ¿Qué es lo que esas personas que una vez fueron indispensables se llevaron con ellos, y que es lo que ellos dejaron?
Contestemos con sabiduría mis queridos hermanos – y vivamos de acuerdo a ello.
***
"For what will it profit a man if he gains the whole world,
and loses his own soul?" (Mark 8:36) There is nothing like a trip to a cemetery to put our temporal lives in perspective. We live in an "it's all about me" world, and even as believers, it's easier than not to get caught up in that faulty mindset and quickly become overwhelmed with the urgency to fulfill my wants, my needs, my feelings, my desires.
Materialism depends upon just such an urgency; advertising appeals to it. If we could just win the lottery, write that bestseller, buy that bigger house, that fancier car, those name-brand clothes, we'd be happier, more fulfilled, more satisfied. And, of course, we'd serve God more wholeheartedly!
The truth is, such a mindset is…well, just not true. If we aren't joyously and wholeheartedly serving God where we are today with what we have right now, we wouldn't do it if we inherited all the money in the world tomorrow. If we doubt that statement, it's time for a trip to the cemetery.
Graveyards are filled with once-indispensable people, people whose lives meant something to someone at some time here on earth. But when they breathed their last and were lowered into the ground, did the world stop spinning? No? Then it's a safe assumption it won't stop spinning when we breathe our last either.
So what can we accomplish by making that trip to the cemetery? We can prioritize what we do today—and how well we do it—by asking ourselves this question: What did those once-indispensable people take with them, and what did they leave behind?
May we answer wisely, beloved—and live accordingly.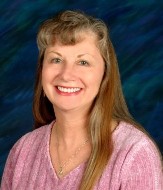 Kathi Macias, popular speaker and prolific author, is an Angel-award winning writer who has published twenty-one books and hundreds of articles. Whether keyboarding her latest book, keynoting a conference, or riding on the back of her husband's Harley, Kathi "Easy Writer" Macias is a lady on a mission to communicate God's vision. Her insightful words—filled with passion, humor and soul nourishment—refresh audiences from all walks of life. To book Kathi for your next event, email kenbarry@thebarryagency.com. For more information, visit www.KathiMacias.com. Spanish translations by Cynthia Alcantara (cynthia.alcantara1@gmail.com).