"Como son más altos los cielos que la tierra,
Así son mis caminos más altos que vuestros caminos,
y mis pensamientos más que vuestros pensamientos dijo Jehová."
Isaías 55:9 RV Nosotros los seres humanos fuimos hechos en la imagen de Dios, no al revés, aunque nosotros a menudo nos olvidamos de esa gran verdad. Como resultado, tenemos una vista sesgada de Dios, del mundo, de la vida, y de nosotros mismos. La única manera de corregirlo es poner a Dios en una perspectiva apropiada. Eso significa que no Lo podemos examinar bajo el microscopio de nuestro razonamiento finito, sino que Lo debemos de percibir por el telescopio de Su Palabra.
Nuestro pastor ha estado enseñando sobre la soberanía de Dios, inclusive el hecho que por virtud de Su soberanía es que tenemos sólo una elección para vivir en la perspectiva apropiada como aquellos que son hechos en la imagen del Soberano—debemos adoptar una actitud de siervos. Porque vivimos en un país maravilloso que nos ha permitido tomar parte en el gobierno, a nosotros a menudo se nos olvida lo que significa vivir bajo regla soberana. Los que viven bajo un rey o un dictador o bajo alguna otra forma de liderazgo soberano comprenden mejor que nosotros. La diferencia es que nuestro Soberano no es humano y por lo tanto no está limitado por capacidades humanas o manchado por el pecado humano. Pero nuestra llamada al servicio es no menos real; más bien es aún más real, porque nuestra relación al Soberano del Universo es eterna, en vez que temporal.
Verdaderamente, Jesús dijo que Él ya no nos llama "siervos" a aquellos que Lo seguimos, sino que nos llama "amigos."¡Y que gran privilegio es ese! Pero no anula el hecho que nosotros todavía debemos de andar en la sumisión y la obediencia al que ha numerado nuestros días y ordenado nuestros pasos.
Los Estados Unidos de América son una República, basada en reglas democráticas que nos permite decir cómo debemos de ser gobernados. Pero no es así en el Reino de Dios. Nosotros no votamos en leyes pendientes, no protestamos en las leyes que existen, o elegimos a un nuevo gobernante. Dios está encargado, punto. Él siempre ha sido y siempre será, a pesar de cómo humanos puedan quejarse o puedan delirar, o puedan sacudir los puños al cielo, o negar Su existencia.
Dios está más allá de nuestra comprensión porque Él es perfecto y nosotros no lo somos. Él está más allá de nuestra comprensión porque Él es omnisciente, omnipresente, y omnipotente; nosotros no lo somos. Él toma TODAS las decisiones, no solamente algunas de ellas, y Él no tiene necesidad de consultarnos antes o de disculparse si no nos gusta el resultado de lo que decidió. Y Él no estuvo bajo ninguna obligación de enviar a Su Hijo a pagar por nuestros pecados para que podamos tener una vez más una relación con Él.
Pero así lo hizo Él. Y ese es un aspecto asombroso de Su personalidad que es casi imposible de entender. Un Dios perfecto y todopoderoso, que no necesitó nada de nosotros y no nos debía nada, se humilló para entrar en nuestra presencia y revelarse a nosotros lo suficiente para que pudiéramos comprender mejor a nuestro Creador, lo más que pudiéramos saber para reconocerlo como Señor Soberano y darnos alegremente y de buena gana nuestras vidas para dedicarlas a Su servicio. Y porque así lo hizo Él, estamos sin excusa si no respondemos.
Un viejo episodio humorístico de Dennis La Amenaza representa propensamente nuestra postura necesaria ante un Dios soberano, como muestra el pequeño niño que se arrodilla a la cabecera de su cama, con sombrero de vaquero puesto, un fusil plástico a su cintura mientras él dobla las manos en súplica y dice, "estoy aquí para entregarme".
Nosotros con nuestros sombreros torcidos de vaquero y fusiles plásticos podemos pensar que estamos encargados de nuestras vidas, pero es únicamente porque no hemos comprendido que somos nosotros los que hemos sido hechos en la imagen de Dios, no El en la nuestra. Tire ese microscopio que minimiza al Soberano del Universo a Uno que existe para servir nuestras necesidades, y comience a estudiar a Dios por el telescopio de las Escrituras. Yo le prometo que muy pronto su vista aumentada de Dios le dará el corazón de un sirvo que no desea nada más que cumplir el propósito para cual Él lo ha creado.
***
"For as the heavens are higher than the earth, so are My ways higher than your ways,
and My thoughts than your thoughts."
Isaiah 55:9
We humans were made in God's image, not the other way around, though we often forget that great truth. As a result, we have a skewed view of God, of the world, of life, and of ourselves. The only way to make it right is to put God back in proper perspective. That means we can no longer examine Him under the microscope of our finite reasoning, but rather behold Him through the telescope of His Word.
Our pastor has been teaching on God's sovereignty, including the fact that by virtue of His sovereignty we have only one choice if we are to live in proper perspective as those made in the Sovereign's image—we must adopt a servant attitude. Because we live in a wonderful country that has allowed us to participate in government, we often lack the understanding of what it means to live under sovereign rule. Those who live under a king or dictator or some other form of sovereign leadership understand much better than we. The difference is that our Sovereign is not human and therefore not limited by human abilities or tainted by human sin. But our call to servanthood is no less a reality; rather, it is more so, as our relationship to the Sovereign of the Universe is eternal, rather than temporal.
True, Jesus said that He no longer calls those of us who follow Him "servants" but "friends." And what a great privilege that is! But it does not negate the fact that we are still to walk in submission and obedience to the One who has numbered our days and ordered our steps.
America is a Republic, based on democratic rule that allows us a say in how we are governed. Not so in the Kingdom of God. We don't get to vote on pending laws, protest existing ones, or elect a new ruler. God is in charge, period. He always has been and always will be, regardless of how humans may rant or rave, shake fists at heaven, or deny His existence.
God is beyond our understanding because He is perfect and we are not. He is beyond our comprehension because He is omniscient, omnipresent, and omnipotent; we are not. He calls ALL the shots, not just some of them, and He has no need to consult us before He does so or apologize if we don't like the outcome. And He was under no obligation to send His Son to pay for our sins so that we could once again have relationship with Him.
But He did. And that is the most stunning aspect of His personality to fathom. A perfect, all-powerful God, who needed nothing from us and owed us nothing, humbled Himself to come into our presence and reveal to us as much as we were able to understand about our Creator, as much as we needed to know to acknowledge Him as Sovereign Lord and willingly and joyfully give our lives over to His service. And because He did so, we are without excuse if we do not respond.
An old Dennis the Menace cartoon so aptly depicts our necessary stance before a sovereign God, as it shows the little guy kneeling at his bedside, cowboy hat askew and plastic gun still holstered around his waist as he folds his hands in supplication and says, "I'm here to turn myself in."
We with our crooked cowboy hats and plastic guns may think we're in charge of our lives, but it is only because we have not understood that it is we who are made in the image of God, not He in ours. Throw away that microscope that minimizes the Sovereign of the Universe to One who exists to serve our needs, and start studying God through the telescope of the Scriptures. I promise you that very soon your magnified view of God will give you a servant's heart that wants nothing more than to fulfill the purpose for which He has created you.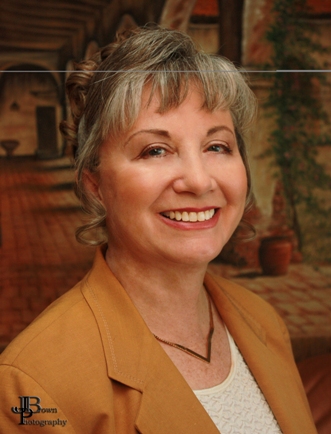 Kathi Macias, popular speaker and prolific author, is an Angel-award winning writer who has published nearly thirty books, including her latest releases, Mothers of the Bible Speak to Mothers of Today (New Hope Publishers) and My Son John (a novel from Sheaf House). Whether keyboarding her latest book, keynoting a conference, or riding on the back of her husband's Harley, Kathi "Easy Writer" Macias is a lady on a mission to communicate God's vision. Her insightful words—filled with passion, humor and soul nourishment—refresh audiences from all walks of life. To learn more about Kathi or to book her for your next event, visit www.KathiMacias.com. Spanish translations by Cynthia Alcantara (cynthia.alcantara1@gmail.com).