Why Wouldn't Everyone Want the Gifts of the Spirit [Part 2]
Are you ready for some good news?
The gifts of the Holy Spirit are for every Christian. It's not selfish to want to grow in the gifts – it's God's plan for building up the church and changing the world!
Today's Text: "Now concerning spiritual gifts, brothers, I do not want you to be uninformed….Now there are varieties of gifts, but the same Spirit;" (1 Corinthians 12:1,4, ESV)
As we continue in our classic radio series on the Holy Spirit, today's broadcast asks the question, "Why wouldn't everyone want the gifts of the Spirit?" One reason that many resist the gifts is misunderstanding the gift itself. And one of the most misunderstood gifts is the gift of prophecy.  But Paul loved the prophetic gift and lifted it up: "Follow the way of love and eagerly desire spiritual gifts, especially the gift of prophecy." 1 Corinthians 14:1
Prophecy in the church today has a more distinct, good news purpose than the thunderous prophets of the Old Testament. New Testament prophecy is not about impending judgment and it is not primarily about telling the future. Paul explicitly says that the purpose of prophecy is to encourage, to edify, and to strengthen.
Prophecy is not the communication of the approaching judgment of God; it is not prediction of the future; and it is not telling somebody what to do. Instead, it is God revealing Himself, His love and His commitment to bless and empower His people so that they can do what He has called them to do.
Prophecy is meant to encourage, which literally means, "to put courage in." God does not promise you a trouble-free life. In fact, Jesus said that in this world you will have trouble. You will go through wilderness times, you will go through uncertainties, and you will face adversities. That is reality. Yet God has promised – He is absolutely committed – to never leave you, never forsake you, or allow you to go through something that He will not give you the strength to make it through.
A prophetic word graciously reveals God's love and presence. He wants you to know that He'll carry you through whatever circumstances arise, giving you wisdom in all that you face. And that's the Gospel!
---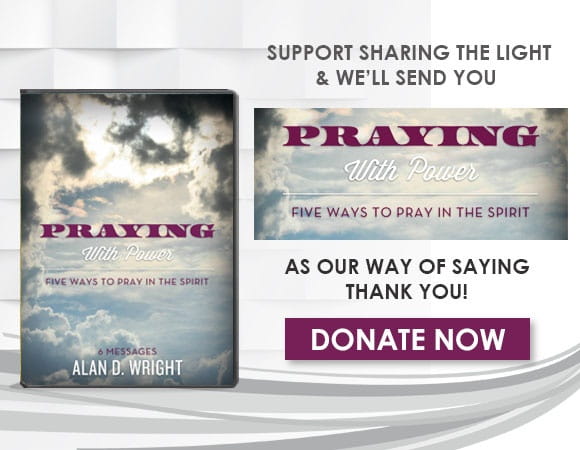 For more information please visit SharingtheLight.org.