Valuable Adversity [Part 2]
Are you ready for some Good News?
Sometimes the worst times in your life become the best times. Your life has been marked by moments of Valuable Adversity because God takes what the enemy means for evil and uses it for His good.
Today's Text: "But Joseph said to them, "Do not fear, for am I in the place of God? As for you, you meant evil against me, but God meant it for good, to bring it about that many people should be kept alive, as they are today. So do not fear; I will provide for you and your little ones." Thus he comforted them and spoke kindly to them." (Genesis 50:19–21,)
God uses our adversities to bless others and us. But, as theologian Wayne Grudem explains, God isn't the author of evil:
"…. it is very clear that Scripture nowhere shows God as directly doing anything evil…. Morever, Scripture never blames God for evil or shows God as taking pleasure in evil, and Scripture never excuses human beings for the wrong they do.  However we understand God's relationship to evil, we must never come to the point where we think that we are not responsible for the evil that we do, or that God takes pleasure in evil or is to be blamed for it.  Such a conclusion is clearly contrary to Scripture." (Wayne Grudem, Systematic Theology, p. 323)
Joseph's brothers threw him into the pit because they had wickedness in their hearts. Potiphar's wife threw Joseph into scandal and thus to prison because of the evil in her heart. God didn't author the evil; He redeemed it.
When Joseph revealed himself to his hungry and hopeless brothers, his reassurance made two things clear: 1) he knew that the brothers meant it for evil; 2) he knew that God had redeemed it all for good.
Because of God's infinite wisdom, goodness and glory, the horrifying ordeal that Joseph went through was actually a magnificent blessing.
Most of us haven't endured the agonies of Joseph, but we have all experienced God moments of Valuable Adversity. When you look back over your life on your spiritual treasure hunt for your God moments, don't skip past the difficult times. There are good things, wonderful things, in your life now that couldn't have been possible if you hadn't faced adversities that you would have never chosen. Those are your God moments of Valuable Adversity. And that's the Gospel!
---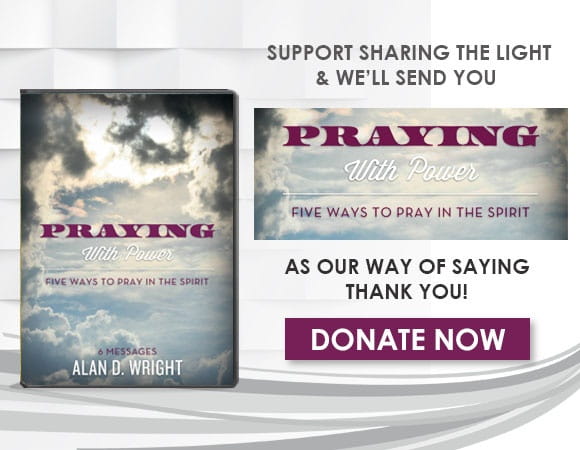 For more information please visit SharingtheLight.org.