The Secret to Unspeakable Joy [Part 1]
Are you ready for some good news?
In the words of author Barbara Johnson, "pain is inevitable; misery is optional." I think the Apostle Paul would have put it more triumphantly: "pain is inevitable, but joy is always possible."
Today's text: "I thank my God in all my remembrance of you, always in every prayer of mine for you all making my prayer with joy…." (Philippians 1:3–4, ESV)
University professor and motivational speaker, Leo Buscaglia, often told of his mother's "misery dinner." One fateful evening, Buscaglia's father arrived home dejected and announced that his business partner had absconded all their resources. The father suddenly had nothing. Bankruptcy seemed inevitable.
Imagine the family's shock when, the next evening, Buscaglia's mother had prepared a huge feast. The Italian immigrant mom had spared no expense on a lavish dinner spilling over with antipasti, salads, veal, pastas, and breads.  
"What's this?" Buscaglia's father cried out.
"The time for joy is now," the mother explained. "This is when we most need joy, not next week or later."
She had sold some jewelry to buy food for the feast. Buscaglia said the family cried and laughed and celebrated in the midst of their difficulties and no one ever forgot the joy of that dinner in the midst of their pain.
It's surprising that, though the Apostle Paul was writing from prison, he mentioned "joy" 16 times in his epistle to the Philippians.
What may surprise me even more is all that Paul doesn't highlight in his Philippian letter. He doesn't complain of being wrongly imprisoned. He doesn't refer to the difficulty of his circumstances (other than mentioning that he's learned to be content no matter the situation). He doesn't try to rally support for his release from prison. He doesn't denigrate the Roman government. He doesn't vent his anger at the Jews who were originally responsible for his imprisonment. He doesn't belabor the wretched evils in the Roman empire. He doesn't even address the idolatry and paganism surrounding him.
Paul discovered the secret of joy. It's a fruit of the Spirit. Joy isn't restricted by adversity. It cannot be drowned by pain. The joy of the Lord can bubble up in the midst of deepest difficulties. And, for your well-being, it must.
You can have joy in the Lord no matter what. And that's the Gospel!
---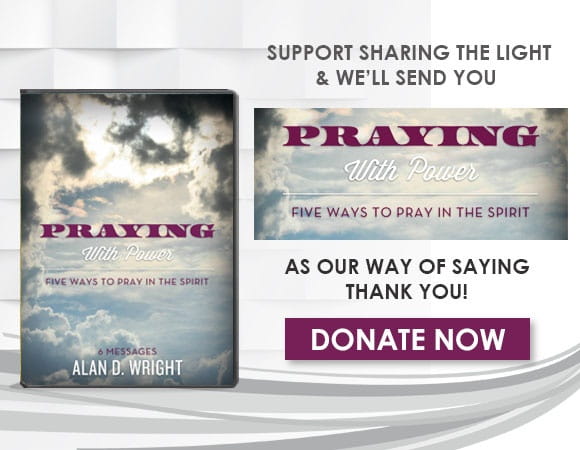 For more information please visit SharingtheLight.org.