The Pure Heart Prayer [Part 1]
Are you ready for some good news?
Today's Text: "Create in me a clean heart, O God, and renew a right spirit within me. Cast me not away from your presence, and take not your Holy Spirit from me. Restore to me the joy of your salvation, and uphold me with a willing spirit." (Psalm 51:10–12, ESV)
As we continue learning about praying the pure word of God, we turn today to one of the deepest, truest, most powerful prayers of confession ever uttered. They are the words David as his heart nearly bursts with remorse over his sin with Bathsheba.
You can hear the pathos, the emotion, the profound contrition reverberating from the king's inmost being: O God, restore me, cleanse me, renew me, help me.
As a preacher of grace, I'm often quizzed about the well known verse in 1 John 1:9 where the apostle tells us that "if we confess our sin, God is faithful and just to forgive us" – people often ask, "Doesn't that mean that God will not forgive us unless we confess our sin?'
The erroneous idea suggests that unconfessed sin leaves you in a state of unforgiveness – which means if you have unconfessed sin, get hit by a truck, that you are lost for eternity. What a preposterous thought!
Once you accept Christ's saving work, you are no longer a "sinner", you are a "saint"! You are an heir of God Himself. You aren't about to be lost from God because of something so flimsy as your own capacity to enumerate all your sins before the Almighty!
David's is the model for all penitential prayer. Human flesh (the sin nature) wants to cover up or make up for sin, but David, in the remarkable prayer of Psalm 51 does neither. King David appeals to God's mercy. He asks God to be who God is. As Spurgeon put it, David says, essentially: "Act, O Lord, like thyself; numberless have been thine acts of goodness, and vast is thy grace; let me be the object of thine infinite mercy, and repeat it all in me. Make my one case an epitome of all thy tender mercies."
David asks God for the unimaginable: to blot out his sin; to wash him; to cleanse him. David asks God to make him whiter than snow. He prays that he will know joy again and, even more, that he'll have a new heart. Further, David asks to be filled with the Holy Spirit!
What's David asking for? He's asking for Jesus without calling His name. Call upon Jesus. That's how to pray when you've sinned. And that's the Gospel!
---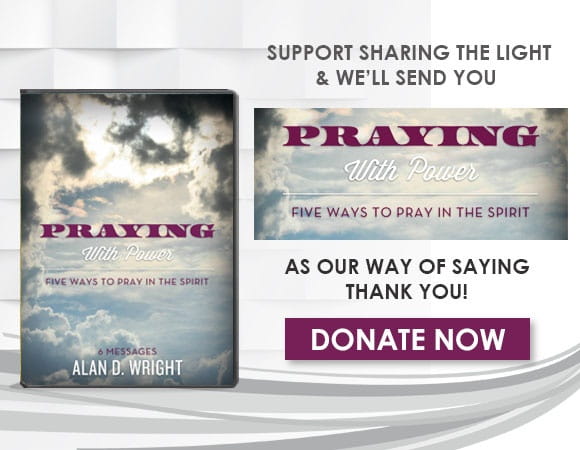 For more information please visit SharingtheLight.org.