The Power of the Lord's Supper [Part 2]
Are you ready for some good news?
Jesus came not to condemn but to set us free!
Today's Text: "For I received from the Lord what I also delivered to you, that the Lord Jesus on the night when he was betrayed took bread, and when he had given thanks, he broke it, and said, "This is my body, which is for you. Do this in remembrance of me." (1 Corinthians 11:23–26, ESV)
Yesterday we began looking at the strong words Paul uses about communion in 1 Corinthians 11:27-30 where Paul speaks about the dangers of taking the sacrament wrongly. Sadly, man Christians have missed the joy and power of The Lord's Supper for fear of taking the sacrament in an "unworthy" manner and bringing "judgment" upon themselves. But, communion is the ultimate celebration of the grace of God in Christ. The only way a Christian could take communion in an "unworthy manner" is to miss the depth of God's grace that is symbolized in the sacrament.
Interestingly, Paul highlights how we are to remember the Lord's Supper: "The Lord Jesus, on the night He was betrayed, took bread…." (I Corinthians 11:23) On the night He was betrayed. That is how it is remembered. Why is Judas such an integral part of this story?
Hebrews 12:15 says, "See to it that no one misses the grace of God." In a literal way, Judas sat at the table reclining with Jesus, and had no recognition of who Jesus was. Judas had no discernment of the offer of grace that was right there at the table with him. And what happened to Judas? Having no discernment of what God had done in Jesus for him, Judas betrayed Jesus. When Judas realized that Jesus had been condemned to death, a great self-condemnation overtook Judas, his soul became sick, and he killed himself. God didn't strike Judas down with sickness or weakness. God didn't kill Judas.
God is not waiting in heaven for some Judas – some churchgoer – to make a mistake so that He can make that person weak, sick, or even kill him. Such is not the heart of God. The Son of Man came not to condemn, but to set free. The longing of heaven is that no one misses the grace of God.
In 1 Corinthians 11:27-30, Paul was not telling forgiven saints that they were going to fall under the condemnation of the law. Rather, he was saying that when you miss the grace of God you put yourself under an old condemnation. Jesus came to bring you out of that condemnation. The Lord's Supper isn't about condemnation; it is about grace. And that's the gospel!
---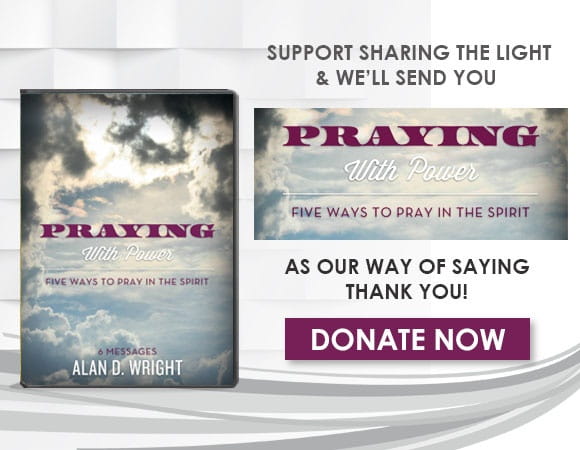 For more information please visit SharingtheLight.org.