The Dance of Three [Part 2]
Are you ready for some good news?
The Holy Spirit, the third Person of the Triune God, always points you to Christ. The more you are filled with the Spirit, the more you will see Jesus.
Today's Text: "And I will ask the Father, and he will give you another Helper, to be with you forever, even the Spirit of truth, whom the world cannot receive, because it neither sees him nor knows him. You know him, for he dwells with you and will be in you." (John 14:16–17, ESV)
We're learning about the Trinity in order to appreciate who the Holy Spirit really is.
The early church fathers referred to the interrelating of Father, Son and Holy Spirit as the perichoresis, from two Greek words: peri, meaning circle, like perimeter; and choresis from the idea of a dance, like choreography. The Holy Spirit, the Son, and the Father are in an on-going, divine, mysterious dance of love, and you and I are invited into the dance.
Esteemed Reformed theologian J. I. Packer, in his book Keep in Step with the Spirit, put it this way:
"The Holy Spirit's distinctive new covenant role, then, is to fulfill what we may call a floodlight ministry in relation to the Lord Jesus Christ… It is as if the Spirit stands behind us, throwing light over our shoulder, on Jesus, who stands facing us. The Spirit's message to us is never, 'Look at me…' but always, 'Look at him, and see his glory; listen to him and hear his word; go to him, and have life….' The Spirit, we might say, is the matchmaker, the celestial marriage broker, whose role is to bring us and Christ together and ensure that we stay together forever."
As you open your heart to the infilling of the Holy Spirit, you will see Jesus:
See who He really is in grace and truth (John 1:14)
See that He lives and intercedes for you (Romans 8:34, Hebrews 7:25)
Discover Him to be your brother (Psalm 22:22, Hebrews 2:11)
See that He is the same yesterday, today, and forever.
See that the Father loves the Son, that the Son loves the Father, that the Spirit loves the Son, and that in Him, we are being connected with Jesus, our brother, and we realize the love and the blessing of the Father; And, as your heart is made glad in seeing Jesus, God is glorified.
In other words, as you are filled with the Spirit, your vision of Christ grows richer and deeper. And that's the gospel!
---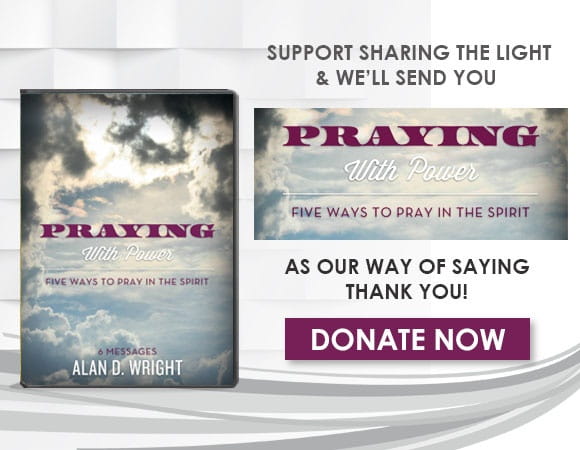 For more information please visit SharingtheLight.org.