The Agreement Prayer [Part 1]
Are you ready for some good news?
You can agree with God in prayer. It's simple. It's powerful. It's world changing.
Today's Text: "And Mary said, "Behold, I am the servant of the Lord; let it be to me according to your word." (Luke 1:38, ESV)
Some prayer is presumptuous. Like the saint who prayed, "Lord, I'm getting ready to drive by the Krispy Kreme doughnut shop and, if you want me to stop and have a chocolate iced cream filled doughnut right, just let there be a parking place right out front". Miraculously, the fifth time around the block, there was a parking place right out front! What would be more presumptuous, of course, would be to then pray, "Lord, just don't let any of the calories in this doughnut affect my body. I rebuke any fat calories in Jesus' name." Ha! Some things you can't rebuke. And there are some things you shouldn't use Jesus' name to address!
On the other hand, some prayer is pitiful. "Oh Lord, I am such a sinner and I am so unworthy; who am I to even come to your majestic throne? Oh, far be it from me to ask anything of you, O Lord. You know what is best and you know what a miserable wretch I am. I don't expect anything of you Lord. It is enough that I just not be destroyed for all my unworthiness." It's hard to imagine the Father being honored by such talk from His heirs!
One school of thought contends that boldness and authority are the keys to effective prayer. The other side asserts that contrition and humility are the keys to a deep prayer life.
I love Mary's prayer because it is the perfect synthesis between the two extremes. The Lord sends an angel to tell her that she is going to be the mother of the Messiah. It's an honor the teenage Nazarene girl would have never dared ask of God. But the Lord chose her. In her awe, Mary spoke to God some of the most powerful, fitting words in the entire Bible: "Let it be unto me according to your Word."
Essentially, Mary said, "Lord, you have made a great and precious promise to me. Now, let it come to pass."
Mary agreed with God in prayer. The most powerful way of praying is to agree with God's own promises. It isn't presumptuous – after all, they are God's promises. It certainly isn't pitiful – after all, God's promises are awesome. You can pray with confidence when you bring God's promises back to God by saying simply: "Let it be just like you've said, Lord." That's powerful prayer. And that's the Gospel!
---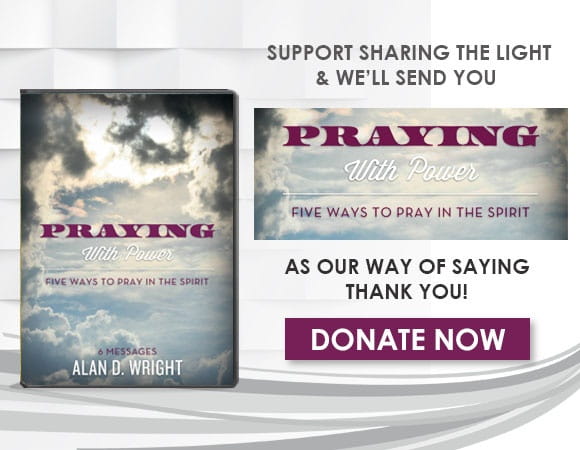 For more information please visit SharingtheLight.org.