Shame Busters [Part 1]
Blessings on the New Year! Are you ready for some good news?
We have a God who clings to us. It's the truth that heals our shame and lifts us from our depression.
Today's text: "Would you therefore refrain from marrying? No, my daughters, for it is exceedingly bitter to me for your sake that the hand of the Lord has gone out against me." Then they lifted up their voices and wept again. And Orpah kissed her mother-in-law, but Ruth clung to her." (Ruth 1:13–14, ESV)
In the book of Ruth, Naomi found her value in her husband and two sons. I imagine that she loved them and blessed them. She may have gone beyond blessing, in fact, and said things like, "You are everything to me. I don't know what I'd do without you."
So when her husband and sons died, Naomi grieved as one who had no hope. The very thing that had given Naomi worth was gone. I'm sure she began to hear that diabolical voice of the enemy saying, "Naomi, what good are you now? What do you have to contribute anymore?" She became filled with shame.
Naomi began to feel hopelessly flawed. She isolated herself, urging her daughters-in-law to leave. She became bitter, cursing herself and blaming God.
"Do not call me Naomi; call me Mara, for the Almighty has dealt very bitterly with me" (Ruth 1:20).
Naomi would have just died a bitter old woman, but she had a friend. Ruth wept with Naomi. Ruth saw God in Naomi and loved her in her bitterness. Ruth expressed her unconditional commitment to love Naomi. In fact, Ruth 1:14 says,
"Ruth clung to her."
That's the kind of God we have. God says to us, "Don't urge me to leave you. For where you go, I will go. Where you lodge, I will lodge."  It's the most profound thing you could ever hear from God. God wants to be your friend.
And that's the Gospel!
---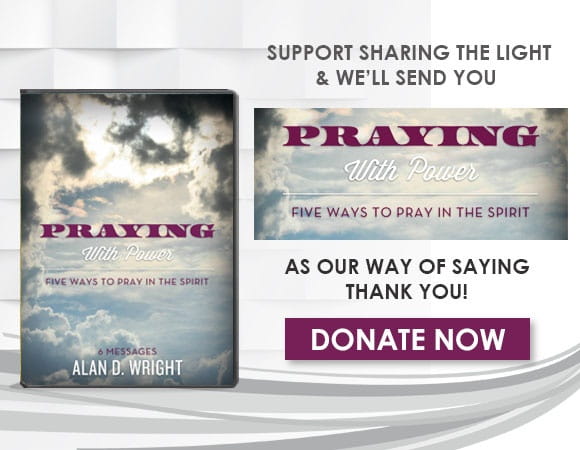 For more information please visit SharingtheLight.org.