Saying So Long to Dead Dog Days [Part 2]
Are you ready for some good news?
God pours unmerited favor upon you because of the fullness of God and the fulfillment of the New Covenant in Christ.
Today's text: "And David said, "Is there still anyone left of the house of Saul, that I may show him kindness for Jonathan's sake?"" (2 Samuel 9:1, ESV)
Young David developed an unlikely friendship with the son of jealous King Saul. Saul, in his raving jealousy, had tried repeatedly to kill David. Yet David made a covenant of deep friendship with Saul's son Jonathon. Jonathon promised to help protect David and, in turn, David promised to look after Jonathon's family once David had taken the throne.
Once David had ascended to the throne, defeated the Philistines and the Edomites and become quite rich, the godly monarch considered his blessed estate and exclaimed: "Is there anyone I can bless for the sake of Jonathon?"
There, in shadow form, is the heart of God. He is the King of Kings. He is resplendent in glory, infinite in wealth, and overflowing with steadfast love. It is His heart's deepest cry: is there anyone that I can bless for the sake of Jesus Christ? Who will receive my blessing today?
It always has been the heart of God to bless. It always will be. God didn't make the world because He was lonely and needed companionship. He made the world because He is an artist and there was a masterpiece demanding to be painted. You and I and this whole cosmos are the overflow of the beauty and wealth that is in the Creator.
When David said he was looking for someone to bless for Jonathon's sake, he was referencing his covenant with Jonathon. It didn't matter who it was. If they were of Jonathon's descendants, David wanted to bless them.
Mephibosheth had been hiding for fear of being executed or exiled by King David because he had no idea that his father had made a lasting covenant with the new king. Mephiboseth fell before the king in fear, calling himself a "dead dog." But David showered blessing upon Jonathon's crippled, fearful son. He invited Mephibosheth to banquet at his table always.
What had Mephiboseth done to deserve such an ongoing feast? Not one thing. David was blessing Mephibosheth because of David's covenant with Jonathon. Mephibosheth had nothing to do with it. You could say Mephibosheth was blessed in Jonathon.
You have been blessed with every spiritual blessing in Christ. It has nothing to do with you, your merits or your righteousness. A Christian is blessed because of the covenant the Father made with the Son. When you believe and trust in Christ, you become a covenant beneficiary. You are blessed in Christ. And that's the Gospel!
---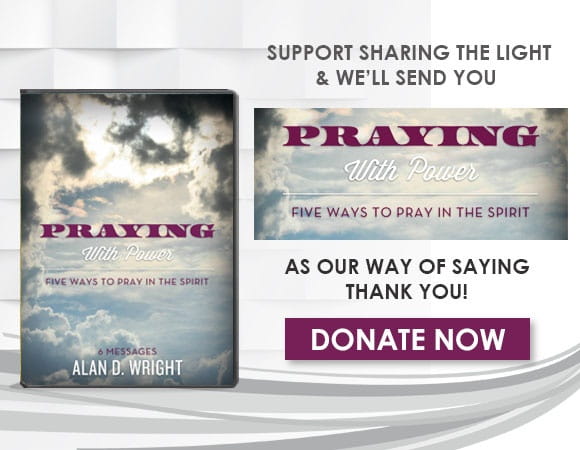 For more information please visit SharingtheLight.org.