Pressing On [Part 2]
Are you ready for some good news?
The Gospel gives you power to persevere.
Today's Text: "Brothers, I do not consider that I have made it my own. But one thing I do: forgetting what lies behind and straining forward to what lies ahead, I press on toward the goal for the prize of the upward call of God in Christ Jesus. Let those of us who are mature think this way, and if in anything you think otherwise, God will reveal that also to you." (Philippians 3:13–15, ESV)
Of all the Olympic stories, my favorite might be about one of the least accomplished athletes. His name is Rubin Gonzalez. Rubin, for most of his life, was a soccer player. But he wasn't a world class soccer player. In fact, according to Rubin, he wasn't a world class athlete at all. But he wanted to be an Olympian. He was determined.
Gonzalez thought through all the summer Olympic sports. No, he couldn't run fast enough or jump high enough to compete in the summer Olympics. So, he decided to think about the winter games. In fact, he called and spoke to a representative at the North American winter Olympic training facility.
The conversation was hilarious.
Rubin: "Hi, I want to be in the Olympics."
Olympics person: "Ok, what is your sport?"
Rubin: "I don't have a sport?"
Olympics person: "What do you mean you don't have a sport? The people who try out for the Olympics have been developing their expertise at their sport for their whole lives."
Eventually, the conversation led to a discussion of the luge – the super fast sled that races down an icy track.
Olympics person: "But, sir, the luge is the most dangerous Olympic sport. 90 percent of the athletes quit before they ever finish trying out."
Rubin: "Great. Perfect! I'm not a great athlete, but I won't quit."
Gonzalez competed not only in the 1988 Olympics but also in 1992, 2002 and 2010. Rubin loves to remind everyone – "Since 90 percent of people in life quit; all you have to do is just not quit and you're already in the top ten percent!"
The reason that Paul refused to quit, but kept pressing on, wasn't personal will power though. He was convinced of the victory of Christ. He was assured of heaven. The Gospel brings hope into the believer's heart that is so powerful that you won't give up. Anyone who knows that victory is sure keeps going. That's what hope does. And that's the Gospel!
---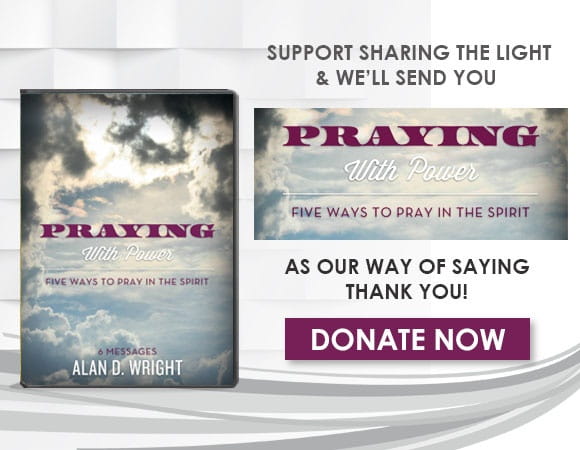 For more information please visit SharingtheLight.org.