Overcoming Temptation [Part 1]
Are you ready for some good news?
God not only wants you to overcome temptation; He wants to help you.
Today's text: "For because he himself has suffered when tempted, he is able to help those who are being tempted." (Hebrews 2:18, ESV)
God wants to help you overcome every temptation.
The statement seems obviously true, but many Christians live as if it isn't. This incongruity finds its root partly in the confusion between the meaning of temptation and testing.
James makes it clear that God tempts no one: "Let no one say when he is tempted, "I am being tempted by God," for God cannot be tempted with evil, and he himself tempts no one. But each person is tempted when he is lured and enticed by his own desire." (James 1:13–14, ESV)
On the other hand, Peter references the value of being tested: "In this you rejoice, though now for a little while, if necessary, you have been grieved by various trials, so that the tested genuineness of your faith—more precious than gold that perishes though it is tested by fire…." (1 Peter 1:6–8, ESV)
What's the difference?
When my children were little, I would take their hand before crossing the road. They weren't capable of discerning whether it was safe to cross a busy street. So I wouldn't even let them attempt it on their own. As they grew and matured, I began teaching them to look to the left and right. They learned that cars were extremely dangerous and that they must never cross a street without looking both ways – twice. But I didn't just give them the lesson on street crossing and then let them go. I tested them.
When I thought they were old enough, I stood next to the road with them hand in hand and said, "Now, you lead me across the road. I want you to look, tell me if it is safe to cross the road, and lead me across." I was testing to see if they really knew how to recognize life threatening oncoming cars.
There was no scenario in which I would stand on the opposite side of a busy street and beckon my children to come while a car was approaching. Such would no longer be an educational test; it would be a dangerous temptation. It would simply confuse the child to have his normally trustworthy father luring the child toward possible destruction. Only an enemy would do such a thing.
The devil tempts. God tests. God will never tempt you. He came in Christ in order to empower you to overcome temptation. And that's the Gospel!
---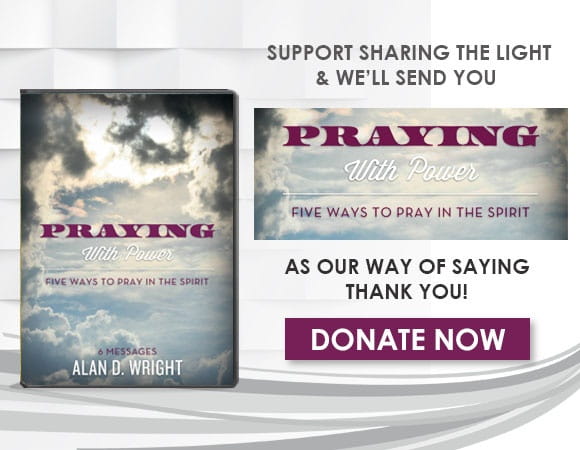 For more information please visit SharingtheLight.org.
Listen to the latest broadcast on OnePlace.com.