Overcoming Despair Amidst Suffering [Part 2]
Are you ready for some good news?
In the school of suffering, you learn the treasures of your inheritance in Christ.
Today's Text: "In the days of his flesh, Jesus offered up prayers and supplications, with loud cries and tears, to him who was able to save him from death, and he was heard because of his reverence. Although he was a son, he learned obedience through what he suffered." (Hebrews 5:7–8, ESV)
To say that Jesus "learned" obedience doesn't mean that He was, at some earlier time, disobedient. If you learned that two plus two equals four in elementary school, you might later learn algebra in middle school. Learning the algebra doesn't mean that you were wrong previously about "two plus two." It just means that you gained new knowledge. Jesus grew in wisdom, stature and favor with God and people. He never sinned; but He did grow.
To say Jesus "learned obedience" means that Christ, who was always perfectly obedient, learned new depths of that obedience as His "school" became harder. He suffered in the wilderness as He began His ministry and was tempted by the devil. But the suffering He experienced in Gethsemane was harder. And the suffering He experienced on the cross even more severe. There was obedience to the Father so deep in Jesus that not even Jesus knew it was there until it was called upon.
You might envision it this way. Imagine you are the beneficiary of an odd trust fund. Someone wealthy has left you as the beneficiary but, oddly, you don't know how much is in the fund. You are just told by the trustee: "It will be sufficient." According to the benefactor's will, you can draw upon the trust fund only when you are in real need. At first, the needs are not severe. You draw upon the fund to support your education. Then, some years later, you draw upon the trust fund because you have a sick child who has some significant medical bills. Throughout your life, you come to realize that the fund must be quite large because it has helped you through so many trials. But, imagine that a huge flood sweeps through your house, plunging all that you have into ruin. Having no flood insurance, you find yourself penniless. But the trustee comes forth with a huge payment from the trust fund that covers all the damages and makes you whole.
It would be accurate to say, "I didn't know how deep and rich the trust fund was until I suffered the loss of so much."
The deepening suffering thus taught you the depth of the resources at work on your behalf. To say Jesus "learned obedience through what He suffered" is to say Jesus increasingly discovered the vastness of His Father's love the more He suffered. As you suffer in the world, you likewise have opportunity to see new levels of God's grace. And that's the Gospel!
---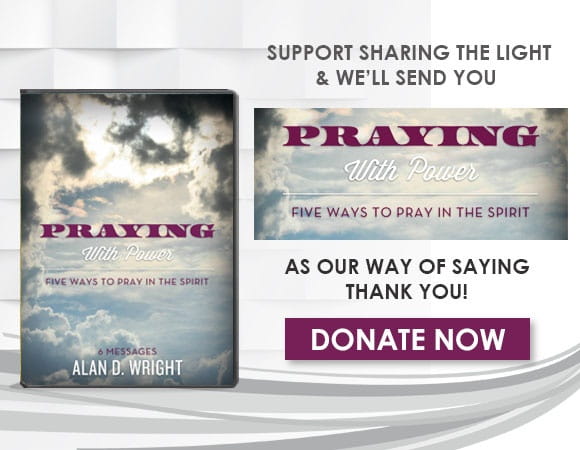 For more information please visit SharingtheLight.org.