Overcoming Despair Amidst Suffering [Part 1]
Are you ready for some good news?
God doesn't abandon you in your suffering; He helps you.
Today's Text: "In the days of his flesh, Jesus offered up prayers and supplications, with loud cries and tears, to him who was able to save him from death, and he was heard because of his reverence. Although he was a son, he learned obedience through what he suffered." (Hebrews 5:7–8, ESV)
Former Chaplain to the Senate, Pastor Lloyd Ogilvie once spoke at a conference where all the participants were given a lapel sticker that read: "I've got one and you've got one too." Throughout the weekend, conferees were all trying to figure out what it was that everyone had. Eventually, the answer was revealed:
"A problem."
I remember Pastor Ogilvie chuckling as he confessed a bit of mischief. Sometimes, Ogilvie confided, he would approach someone he didn't know and, while pretending they were acquaintances, would ask: "Say, did that situation ever work out?"
People would look confused at first, but assuming he knew about the problem they had faced, would usually appreciate the concern he showed.
In other words, there is at least one thing we all have in common: we all face troubles in this world. Sometimes our adversities are light; sometimes they are severe. But, no matter what, we all have problems to face.
Thus, one of the most important questions you'll ever answer is: how will you interpret your suffering?
Some teach that it's noble to suffer – that you are "more spiritual" if you suffer. To follow that line of thinking, you could say something like: "The poor suffer more. Because it's more spiritual to suffer, I'll make a vow of poverty." Others teach the opposite: "There is suffering but, when you accept Jesus and are filled with the Holy Spirit, you won't have to face adversities; you just tell your mountains to move out of the way."
In other words, one line of thought leads to self-flagellations and the other leads to superficiality. But both responses to suffering are equally wrong. Instead, the Gospel teaches simply that suffering is a result of sin in the world. God authors no evil, but He most certainly uses our pain to work deeply in our lives. The Gospel offers us a path of deep honesty wherein we acknowledge our suffering but do not despair in it. God is with you in your pain. And that's the Gospel!
---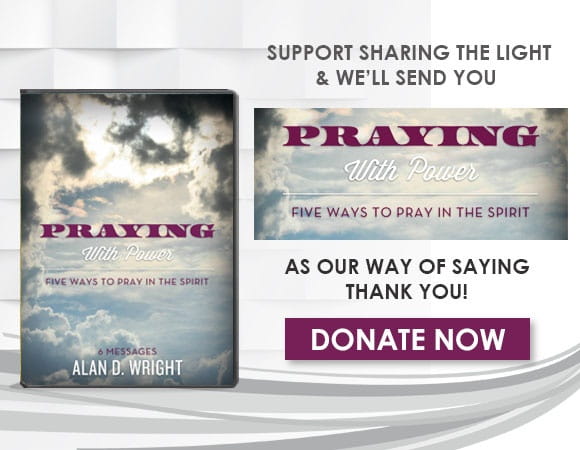 For more information please visit SharingtheLight.org.