Moses' Ten Steps to Freedom [Part 2]
Are you ready for some good news?
For anyone who loves "Ten Steps to …" almost everything, I have ten steps to spiritual freedom for you (taken from the Passover story).
Todays Text: "Your lamb shall be without blemish, a male a year old. You may take it from the sheep or from the goats, 6 and you shall keep it until the fourteenth day of this month, when the whole assembly of the congregation of Israel shall kill their lambs at twilight." (Exodus 12:5-6)
Picking up from yesterday's devotional, here are the next five steps to spiritual freedom based on the story of the Passover:
Step 6) The Hebrew people had to stay under the blood. The Lord gave them specific instructions. They were to paint their doorposts with the blood of the lamb and not go outside. Quit trying to face the darkness in your strength; stay under the blood.
Step 7) The Hebrews had to eat the lamb. The lamb that substituted for them also nourished them. They had to eat the whole lamb. The Gospel isn't just a proclamation that Jesus died for you. It is also a proclamation that Jesus nourishes you from within by His indwelling presence. Eat the lamb.
Step 8) The Hebrews had to be ready to leave. They were told to have their sandals on their feet and staff in hand because God wanted them to be expectant that the blood was effective. Get ready to see God's miraculous deliverance for you.
Step 9) They had to plunder the Egyptians as they went. Amazingly, when the Hebrews fled Egypt, the Lord told them to ask the Egyptians for their gold and silver on the way. The slaves became owners. Quit thinking like a slave – start thinking like an heir.
Step 10) They had to tell their children about it over and over. Remember. Remember. Remember. Keep thinking about what God has done for you. Keep celebrating Jesus' saving work on the cross. Keep reveling in your freedom.
Growing spiritually starts with this simple truth: Jesus paid it all. Let His saving work thrill you, enthrall you and fill your every thought. Grace changes everything. And that's the Gospel! 
---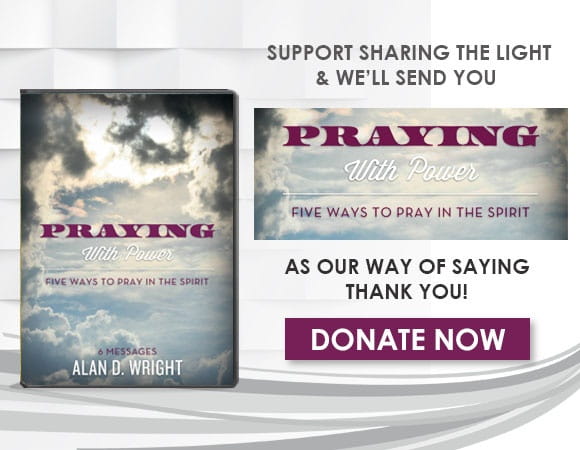 For more information please visit SharingtheLight.org.
Listen to the latest broadcast on OnePlace.com.