Experiencing the Affection of Christ [Part 2]
Are you ready for some good news?
God's love for you isn't merely intellectual. God loves you with deep affection.
Today's Text: "For God is my witness, how I yearn for you all with the affection of Christ Jesus. And it is my prayer that your love may abound more and more, with knowledge and all discernment…." (Philippians 1:8–9, ESV)
When Paul thought of the Philippian Christians, he felt Christ's own affection for them. The Greek word conveys the depths of one's inner being. He loved them literally "in the entrails of Christ."
The notion that God has affection for you is momentous at many levels but, perhaps, mostly in this:
To say God has affection for you is not only to say that your heart is warmed by God being with you but it is also to say that God'sheart is warmed by being with you.
It means that God has joy in being near you, holding you, touching you. Of course, we are speaking of mysteries of the Spirit, but it is not altogether unlike the joy you might get from petting a soft dog or holding a tender baby. It's the nature of affection – giving affection brings delight to the giver.
Paul's prayer that the Philippians' "love may abound more and more" is linked to the twin goals of "knowledge and discernment." Love guides and shapes your whole being.
Phil Yancey has retold a fascinating story shared by Mahatma Gandhi's grandson, Arun. When the teenager learned to drive, his father (Gandhi's son) asked the young man if he would drive him downtown for a meeting and then take the car to the shop for repair work. He told his son that, after dropping off the car, he could enjoy the afternoon in the city as long as he picked up the father at 6 pm sharp. Arun jumped at the chance. The teenager went to a movie theater and the first film, an American Western, enthralled him so much that he decided to stay for the double feature and lost a sense of time. Realizing that he'd missed the 6 pm deadline, the teenager panicked, lied and made up a story that the car hadn't been ready on time. But Arun's father had spoken with the repair shop at 5 pm and had been told that the car was ready.
After they had driven part of the way home, Arun's father had the son pull the car over. He explained that he knew Arun had lied and then said: "I am deeply troubled. How have I failed as a father that my son would not trust me with the truth?" I must reflect on this." And the father walked the rest of the way home as Arun drove behind him slowly for six hours. Arun never lied to his father again.
God loves you affectionately. It means that all His interactions with you are shaped by His depth of affection for you. Such knowledge changes you. And that's the Gospel!
---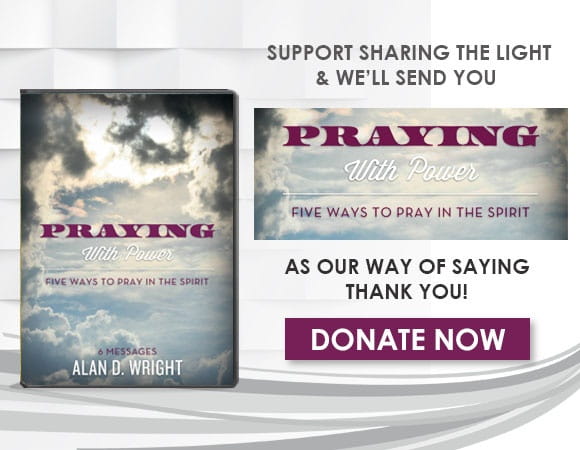 For more information please visit SharingtheLight.org.